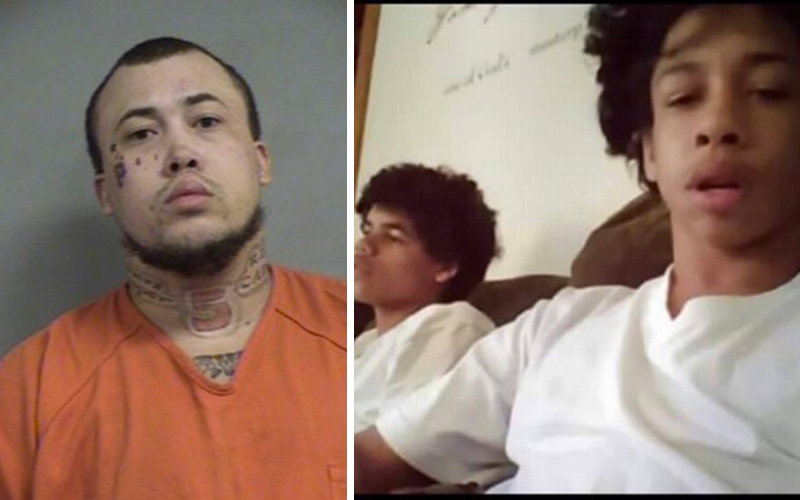 A Louisville community is mourning the lives of two teen brothers after they were brutally murdered by a family friend.
The bodies of 14-year-old Larry Ordway and 16-year-old Maurice Gordon Jr. were found burned in the backyard of an abandoned house on River Park Drive last month.
Police have charged 25-year-old Brice Rhodes, who is a known gang banger and gangster rapper named "Rambo," in connection with the killings.
Rhodes allegedly stabbed the teens at his apartment and dumped their bodies in a vacant lot before setting them both on fire. Rhodes then returned home to clean up the crime scene.
A friend of the victims' family, Renada Frampton, told a judge at Rhodes' arraignment that the teen boys hung out with Rhodes and appeared in a number of his music videos. "He (Rhodes) knew the kids, the kids was in his music video," Frampton said.
According to some unconfirmed reports, the killer was a former boyfriend of the victims' mother.
The teens can be seen in the first ten seconds of Rambo's "Trappin and Juggin" music video (below) — one has a gun in his hand and a scarf over his mouth, the other teen appears to be dazed out on drugs with his shirt off.
Frampton also spoke on behalf of the boys' mother (who did not appear at the arraignment) and slammed those who have been bashing her for not doing more to prevent her sons' death.
"Y'all can bash her, but y'all can't come together to stop these killings. This is ridiculous, every week, it's a killing in Louisville and it's sad and the police do all that they can and nothing will be done until everybody comes together as a community and it's sad that y'all can't come together until somebody is gone," Frampton said.
The teens' mother, Marie Wren, spoke with WAVE 3 News and said she was completely unaware of her sons being in Rhodes' videos. She said the boys had recently witnessed Rhodes murder someone and they told her that they were scared.
Wren also said that her sons were honor roll students and were the total opposite of the image that may be portrayed by photos of the teens brandishing firearms on their social media accounts.
In addition to Rhodes, a juvenile was arrested in connection with the murders. Rhodes has been charged with two counts of murder, tampering with evidence, and abuse of a corpse.
Rhodes was also charged with the murder of 40-year-old Christopher Jones on May 4th. According to police reports, Jones was shot by Rhodes and died of his injuries at the hospital.
Rhodes is no stranger to run-ins with the law and has a VERY lengthy rap sheet to show for it. In the past, he has been arrested for armed robbery, four times for domestic violence, twice for assault, twice for violating the terms of his probation, felony intimidation, criminal confinement and more. Rhodes is also reportedly on the Indiana sex offender registry because he was convicted of criminal confinement of a victim under the age of 18.
Last week in court, Rhodes' lawyer Brendan McLeod withdrew from his case and was threatened by the alleged murderer in front of judges.
McLeod said his reason for dropping Rhodes was due to a conflict of interest, since his family is friends with the victim's grandparents. The move obviously didn't sit well with Rhodes who told McLeod he will find him when he gets out of jail.
"Nice cheap shot," said McLeod to Rhodes. "You're a coward and I'm going to see you when I get out," said Rhodes in response to McLeod.
McLeod later told WHAS11 that Rhodes spit on him before the hearing and apparently that's the "cheap shot" he was referring to.
Rhodes' bond is currently set at $2 million and he's due back in court on June 3rd.
h/t: VladTV
Be the first to receive breaking news alerts and more stories like this by subscribing to our mailing list.