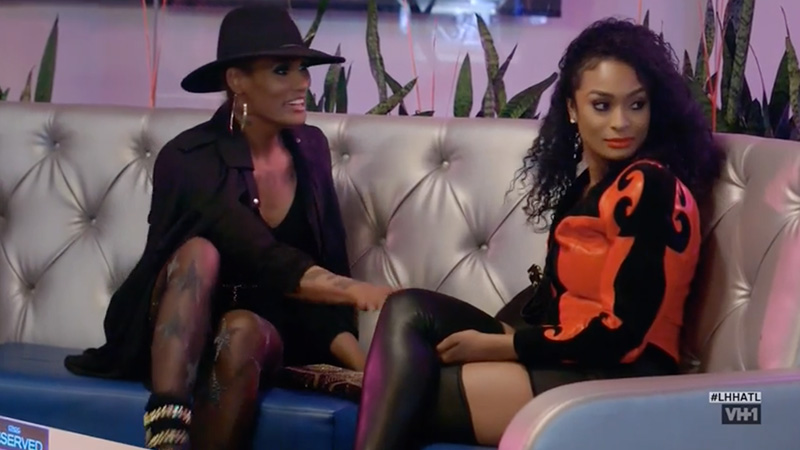 After the epic breakup episode last week, Love & Hip Hop Atlanta decided to give us a break and introduce some news faces in the mix to shake things up.
Like J-Nicks, for instance, who is best described as a butch lesbian-looking version of Twista.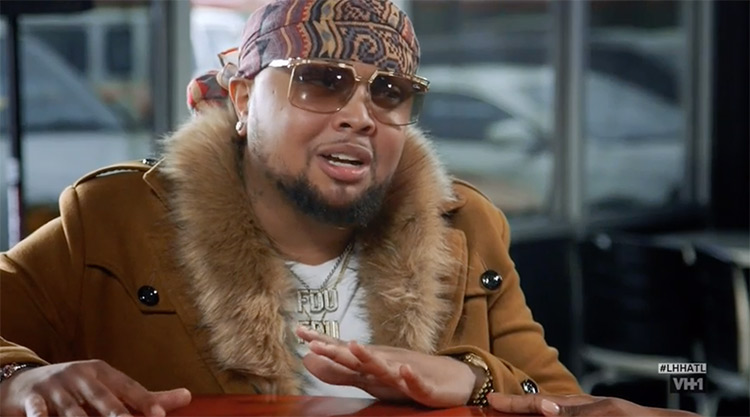 The strange thing though is that he's floated as a love interest for Tiarra, but with that Ms. Thang headscarf (which makes no sense since he's bald) and those diva shades, I think J-Nicks might would rather bump uglies with D. Smith.
Seriously, the shot of J-Nicks, Tiarra and Jessica Dime chatting at the counter looked like a still from the Real Housewives of Atlanta when the girls meet up to settle some beef.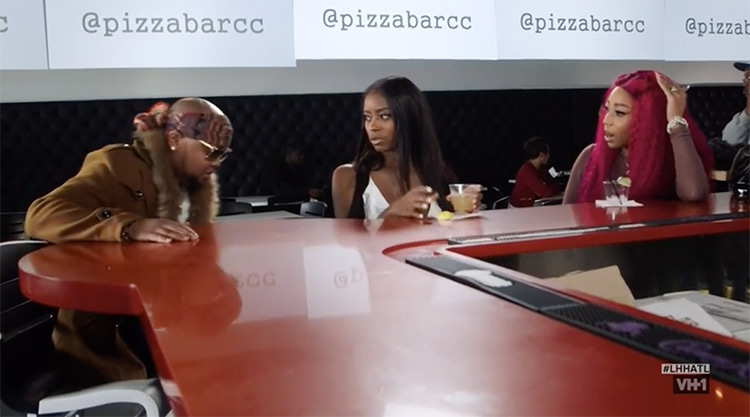 Nene Leakes, is that you girl?
Scrapp Is Definitely Pulling a Mendeecees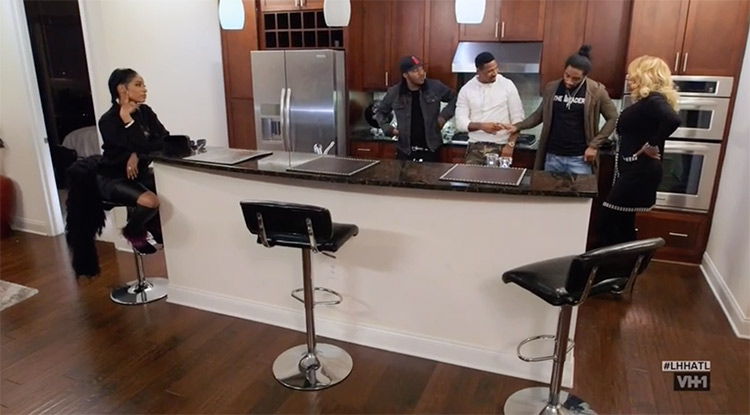 I guess the "Shit, I'm going to prison" thing must've done wonders for the LHHNY edition of the franchise because Mona and co. are copying and pasting the shit out of Mendeecees' storyline with Scrapp.
In a dramatic move, Scrapp calls his "family" over to his apartment so he can break the news about the fact that he's being sentenced to jail for 5 years. Everyone looks like they're attending a funeral. Tommie, who ain't even engaged to this dude, is weeping like she's been a good wife for a solid 10 years.
Meanwhile, I'm wondering why the hell I should give a damn about a criminal getting locked up for doing fuckboy shit. If Mona wants to pull at my heartstrings, she's gonna need to find people who are actually worth crying over.
On the back of Scrapp's sentencing, he tries once again to get his mother KK to sit with Tiarra to squash their beef so his family can maintain a relationship with his son. This time, KK relents and agrees to meet with Tiarra.
But guess how things turn out? Tiarra is on the defensive from the jump and KK doesn't have a diplomatic bone in her body. So when Tiarra starts to express hesitation about reconciliation, KK sinks her teeth in and shouts about how she doesn't like Tiarra. Then the two of them proceed to threaten to show up on each other's door steps while security holds them back from tearing each other apart.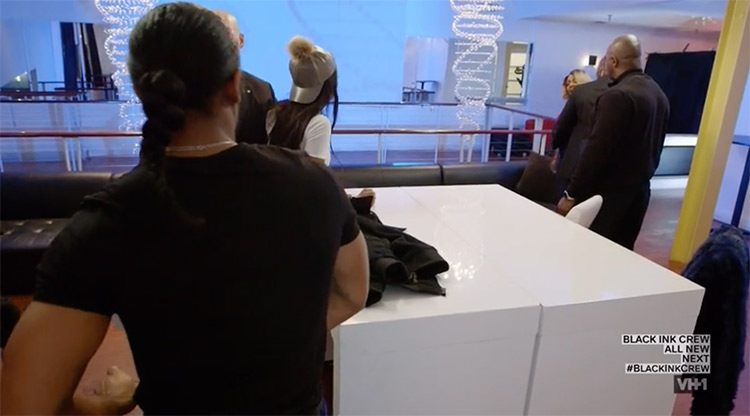 You know, with a ratchet grandma like KK, maybe this baby boy is better off without contact from her.
D. Smith and Betty Idol Piss All the Girls Off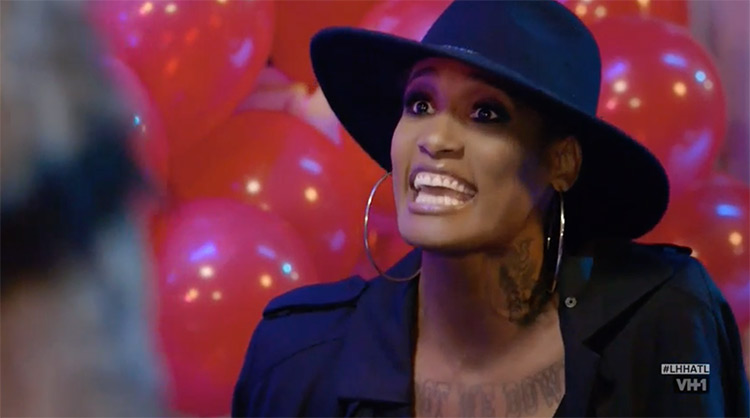 I really don't know why D. Smith and Betty Idol were added to the cast of LHHATL. They don't seem terribly connected to the key players and everyone who they spend more than 5 seconds with onscreen hates them.
At K. Michelle's release party, Joseline and Ariane rub shoulders with D. Smith and Betty Idol. D. Smith apparently has beef with K. Michelle's make-up artist Japan, and when K and Joseline bring it up, D. Smith goes nuclear as if Japan snatched her testes from her ball sack.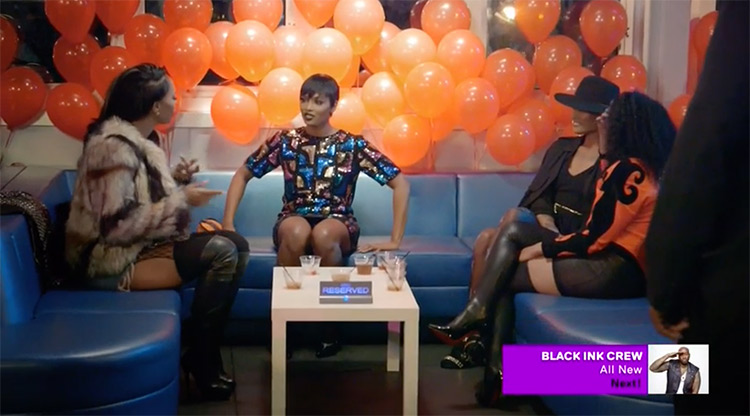 And when the Bambi makes her way over to K's party later, Betty and D. Smith AGAIN get into it and D. Smith makes a sarcastic remark about Bambi being a trans girl like her.
"I respect you. I think you're making history. It's only two of us and us trans girls gotta stick together!" D. Smith says.
Now that was shade well served.
But then Betty Idol starts piping up, trying to go back and forth with Bambi over some song credits and it just devolves into a pathetic dick clit measuring contest. D. Smith is a pitbull and Betty is her chihuahua and frankly, both of these dumb bitches need muzzles put on them ASAP.
Be the first to receive breaking news alerts and more stories like this by subscribing to our mailing list.