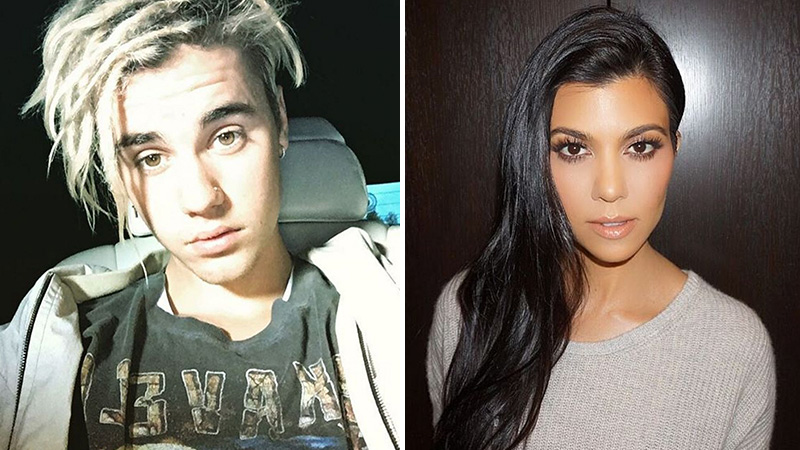 Leave it to Bieber to get roped into the Kardashian clan.
The pop star, who has recently turned to wearing dreadlocks of late, was spotted hanging around Kourtney Kardashian, mother of three and Kim Kardashian's older sister.
Given Kourtney's penchant for bad boy Scott Disick, dating a rebel like Justin Bieber sort of makes sense. But the age difference between the two (he's 22 and she's 36) is sure to set tongues wagging.
People reports that the two have been "hooking up on and off for a few months now."
"They have hooked up a few times, including recently. It happens in L.A," the source shares. "He has met her kids, but they don't hook up around the kids. It's on nights when she has help and is able to go out."

"Kourtney is great. Justin thinks it's cool that she is older and hot. She isn't clingy and has her own life," the source continues. "There are no bad consequences for Justin to hook up with her. She is very easy going and just makes it fun for him to be around her."
Given the news that Justin Bieber's manager Scooter Braun is taking on Kim's husband Kanye West as a client, it would appear that Bieber is drawing closer to the Kardashian-Jenner crew in more ways than one.
You know, if Justin wants to hook up with a Kardashian-Jenner gal, the last one I'd recommend he get involved with is Kourtney. She's got three kids, a troublesome ex and she's not far from 40. Kendall seems more his speed.
Given Hollywood's track record with older women-younger men pairings, a Justin-Kourtney romance seems doomed from the start.
Let's review a little history, shall we?
Vivica Fox and 50 Cent? Bitter breakup. Ashton Kutcher and Demi Moore? Divorced. Mariah Carey and Nick Cannon? Divorced.
Good luck out there, Kourtney and Justin.
Be the first to receive breaking news alerts and more stories like this by subscribing to our mailing list.