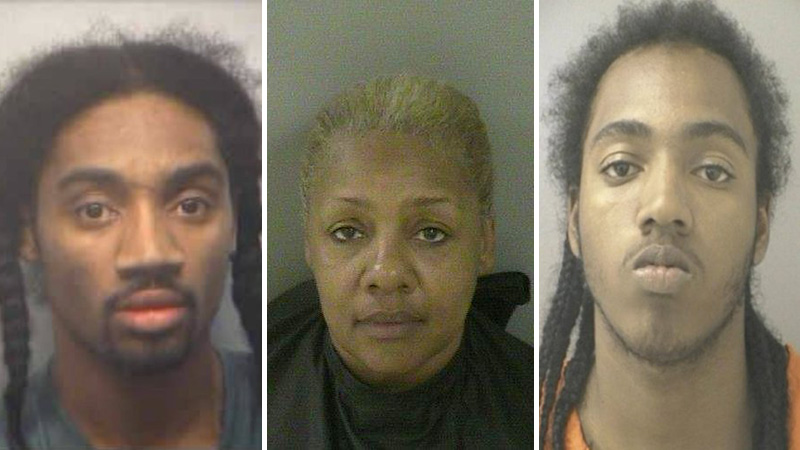 On Monday night's premiere of "Love and Hip Hop Atlanta," we were introduced to Karen "KK" King and her two sons Scrapp DeLeon and Sas.
Very much like Momma Dee and Deb Antney, Karen is a momager who spends more time in her sons' personal business than actually working on their music business.
According to Yung Joc, the King family is a well respected bunch, and they're feared in the streets of Atlanta. They are also related to rapper Dolla, who was shot and killed in 2009.
But what the show didn't tell us is that KK was wanted by police in 2012 for the severe, nearly fatal beating of her ex boyfriend Lyndon Baines Smith, who is also Sas' father.
KK allegedly had her sons Scrapp and Sas, as well as four of their friends, brutally attack Smith at their Georgia home and ordered for his body to be dumped across the state line.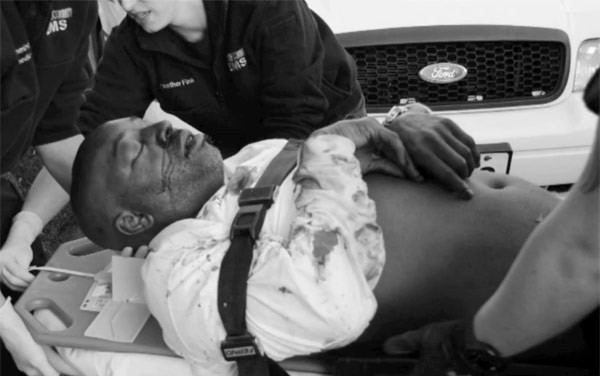 Smith (pictured above) was found badly beaten in the trunk of one of the men's car after police pulled him over and noticed suspicious behavior. There are reports stating Smith died of his injuries at the hospital, but those are actually false.
He was, however, reportedly treated for serious injuries, including multiple rib and facial fractures, and as a result of the attack, he is now blind in one eye.
Months after the incident, Scrapp and Sas were arrested on charges of kidnapping with serious bodily injury and aggravated assault and battery, while KK went on the run and was featured on "America's Most Wanted" as well as 11 Alive's "Fugitive of the Week."
She was caught and arrested a year later after someone tipped her location off to the police.
Here is a snippet of an AJC article reporting on Karen "KK" King's 2013 arrest:
A Cherokee County woman who was featured on "America's Most Wanted" was captured in Florida over the weekend, authorities said.

Karen Lynn King was arrested by sheriff's deputies in Indian River County on Saturday night at her current boyfriend's home. She was wanted on charges of aggravated assault with intent to murder, aggravated battery with disfigurement and kidnapping with bodily injury, the Cherokee County Sheriff's Office said in a news release.

The 52-year-old King is accused of ordering five men to attack her then-boyfriend, Lyndon Smith, who was nearly beaten to death at her Cherokee County home in March 2012, 95.5 FM and AM 750 News/Talk WSB reported. The men were allegedly supposed to dump Smith's body across the state line, but they never made it.

"Once in Alabama, the vehicle was stopped by Alabama authorities and the victim was discovered in the trunk," Lt. Jamie Gianfala with the Cherokee County Sheriff's Office told the radio station. The man was severely beaten.

The tip that lead to King's arrest was called in to the "America's Most Wanted" hotline, according to its website.

King is in custody at the Indian River County Jail pending extradition. She was the last of the suspects in the case, which include her three sons, to be arrested.
The charges were later dropped due to lack of evidence and the Kings were let off the hook. They've apparently made references to beating their case on Instagram:
https://www.instagram.com/p/wFYfekBS-k/
Die and kill 4 what I love, and do it wit a smile!!!!! @sas_nbl #NBLLAFAMILIA #SPILLINJUICE #fuccswagg #mybrotherskeeper #BROTHERSb4BUSINESS #PROLLEM #LONGLIVEDOLLA #DELEONBOYZ
https://www.instagram.com/p/xIXChNBSzs/
They tried to put us away for along time but ALLAH had other plans… So much to smile about!! #ALLPRAISEISDUE #NBLLAFAMILIA #NBL4LIFE #MYBROTHERSKEEPER #LONGLIVEDOLLA #SPILLINJUICE #FUCCSWAGG #SCRAPPDELEON #SAS @sas_nbl
https://www.instagram.com/p/3NWTWJBS-P/
When ya momma just as gangsta as u!!! #BORNINIT #NBLLAFAMILIA #chunkmy3 #igetitfrommymomma
No wonder why they have everyone in ATL shook!
Be the first to receive breaking news alerts and more stories like this by subscribing to our mailing list.