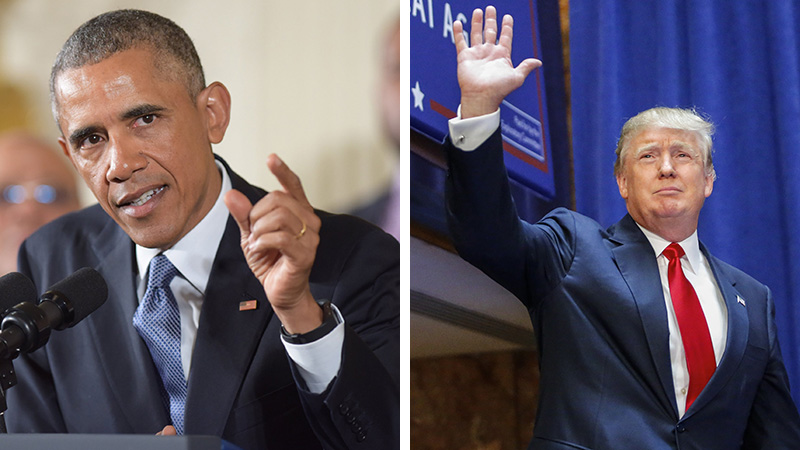 Despite the tremendous support Donald Trump has been receiving in his bid for presidency, President Barack Obama says that he still doesn't believe that Trump has a real chance at succeeding him as the POTUS.
And why is President Obama so confident that Donald Trump won't become the next president? Because he really believes that Americans will do the right thing when it comes time to vote.
"I continue to believe that Mr. Trump will not be president. I have a lot of faith in the American people. And I think they recognize that being president is a serious job. It's not hosting a talk show or a reality show. It's not promotion. It's not marketing. It's hard."
.@POTUS: I believe @realDonaldTrump will not be president, because I have faith in Americans https://t.co/OF460LadqU https://t.co/DQztXVHbnS

— CBS News (@CBSNews) February 16, 2016
Obama went on to say that being the President of the United States of America is a very important job that requires making very important decisions that affect a large array of people.
"Whoever's standing where I'm standing right now has the nuclear codes with them and can order 21-year-olds into a firefight and have to make sure that the banking system doesn't collapse — and is often responsible for not just the United States of America, but 20 other countries that are having big problems or are falling apart and will be looking for us to do something."
Obama also noted that our next president will also need to know how to play nice with other world leaders, and actually know something about them.
"It requires being able to work with leaders around the world in a way that reflects the importance of the office. And it gives people confidence that you know the facts. And you know their names. And you know where they are on a map. And you know something about their history."
We hope President Obama is right in believing that the American people won't choose Donald Trump as the next president, because so far, he is the frontrunner for the Republican party.
Trump already won the New Hampshire primary election last Tuesday (Feb 9) and he's set to win Saturday's primary in South Carolina this Saturday (Feb 20).
Speaking at a campaign event in South Carolina, Trump immediately fired back at President Obama, saying that he considered his criticism a "compliment," because, in his opinion, it's coming from a person who is doing a "lousy job" as president.
"You look at our budgets. You look at our spending. We can't beat ISIS… Our borders are like Swiss cheese," Trump said. "This man has done such a bad job… He has set us back so far, and for him to actually say that is a great compliment, if you want to know the truth."
Trump also called Obama the "perhaps the worst president in U.S. history" on Twitter.
Interesting how President Obama so haltingly said I "would never be president" – This from perhaps the worst president in U.S. history!

— Donald J. Trump (@realDonaldTrump) February 17, 2016
Be the first to receive breaking news alerts and more stories like this by subscribing to our mailing list.