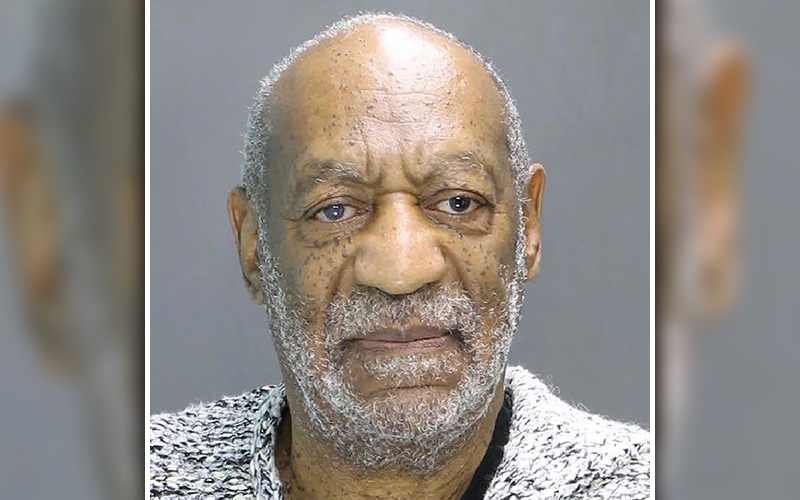 When Bill Cosby's mugshot was released last Wednesday (Dec 30) shortly after he was booked on sexual assault charges stemming from a 2004 alleged rape incident, we're sure one of the first things you noticed was how glazed over his eyes look.
If you pay close attention to his right eye you'll notice that it is severely discolored — like a solid-colored marble.
According to Cosby's lawyers, this is due to a condition he is suffering called keratoconus, and they're even going as far as saying that he's not just "legally" blind, but also "functionally" blind.
Last week, in an interview with CBS This Morning, Cosby's attorney Monique Pressley called her client "a 78-year-old blind man who they've chosen to charge." She added, "That's not a defense to a charge, that's just a fact."
In addition to karatoconus, which causes the cornea to bulge and can cause vision problems such as blurring, ghosting, starbursts, glaring, and eventually blindness, Cosby's lawyer also says the comedian suffers from glaucoma.
In his defamation lawsuit against Beverly Johnson, which he filed last month in response to Johnson's allegations that Cosby drugged and tried to rape her in the mid-1980's, court docs note, "Mr. Cosby has suffered from a degenerative eye condition for years which has steadily worsened recently to the point that he is for over a year has been legally and functionally blind."
Cosby's friends and family have reportedly taken notice of the condition of his eyes, and they have expressed their concern, but "Bill doesn't want to make an issue" about it, one source told Radar Online. "I think his pals and family are greatly alarmed at his bug-eyed appearance."
We get it. Bill Cosby's health is deteriorating, which isn't a surprise considering he'll be 79 years old this July, but it's funny how we're really just now hearing about it.
Besides that, he looked fine back in May when he visited Selma, Alabama and was met with a "supportive crowd." Now all of a sudden he's an old, decrepit, blind man. PLEASE!
Cosby appeared in a Philadelphia courtroom last Wednesday and was ordered to surrender his passport after posting 10 percent in cash of a $1 million bond.
The Montgomery County District Attorney's Office had announced earlier in the day that Cosby had been charged with aggravated indecent assault stemming from an alleged 2004 incident involving former Temple University employee Andrea Constand, who claims Cosby drugged and molested her.
Cosby arrived at court wearing a hooded gray sweater and holding a cane. He had to be held up by two people (one of which was his lawyer Monique Pressley) as he exited an SUV and entered the building, but that didn't stop him from tripping over a sidewalk.
A preliminary hearing has been set for January 14th. If he's found guilty of the charges brought against him, he could face up to 10 years in prison and would have to register as a sex offender.
Be the first to receive breaking news alerts and more stories like this by subscribing to our mailing list.