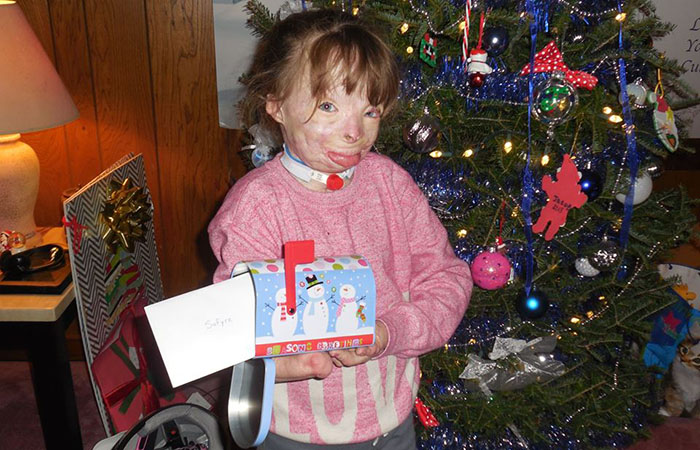 A little girl whose father and three siblings were killed in an arson fire two years ago had one simple holiday wish, and after her story went viral, she got that one wish plus a whole lot more.
Safyre Terry was just five years old when she survived a fire that killed her family. An arsonist reportedly set fire to the stairwell of her family's apartment in Schenectady, New York.
Her father perished in the blaze, as did her younger sister and two younger brothers (pictured below). Safyre was found underneath her father's body, which he used to shield her from the flames.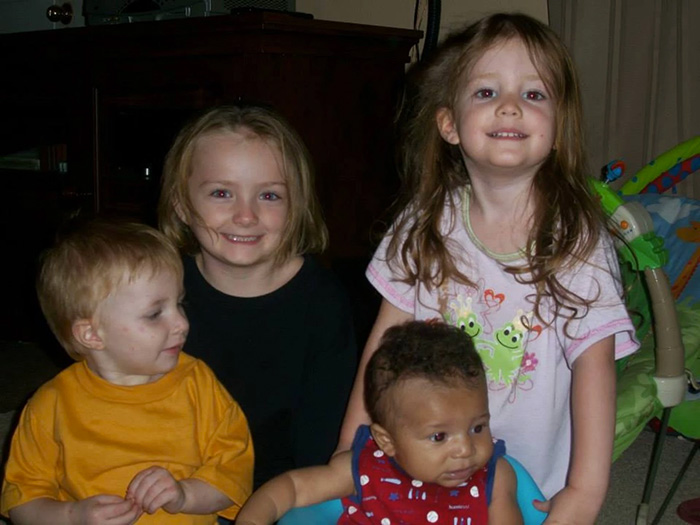 Safyre, who is now eight, suffered severe burns in over 75% of her body. She has since been through many surgeries; her foot and hand were eventually amputated and she also lost skin on her face, her legal guardian and aunt Liz Dolder said.
"Doctors were just making her comfortable until she passed away," Dolder told The Washington Post. "She wanted to live."
This year, Dolder put up a Christmas card tree in their Upstate New York home, which she said Safyre helped her decorate.
Safyre also told her aunt that she couldn't wait to fill the tree up with cards, but Dolder was doubtful that would happen.
Then the unexpected happened: a viral card campaign was sparked after a photo of Safyre and her card tree was posted on Facebook, and the response since has been overwhelming.
According to reports, Safyre has received around half a million pieces of mail, including packages/gifts, and of course, the cards she asked for.
Schenectady postmaster John Reilly told ABC News that it took two two-ton mail trucks, in addition to a rented cargo truck, to deliver Monday's haul alone.
Reilly said it was "the most mail we've ever gotten for a single person in Schenectady."
"It's really wonderful, the outpouring of love for this family and this little girl," he said, adding that they "dropped off 185,000" pieces of mail on Monday.
Safyre's aunt Liz has been documenting Safyre's receipt of her hundreds of thousands of Christmas cards and packages on Facebook, and volunteers have ben helping Safyre and her family handle the steady stream of fan mail.
"It's like everyone's come together for Sa'fyre," Dolder said. "She can't believe it. She's such a humble little girl, too. She really is."
Aunt Liz says the cards have come from all over the world (Brazil, Canada, Malaysia, etc.) and there are packages "in every room, all over the place."
Among the haul is a note from a child from Hong Kong named Adrian who also sent his favorite teddy bear.
The family reportedly plans to send the teddy bear back to Adrian along with a bear "friend" so that his favorite bear is "not so lonely."
The family also plans to lie all of Safyre's cards out on their lawn and will take a picture with an aerial drone to say "thank you" to those who sent one.
"To hear a number is one thing, but you really need to see how many cards there are to understand," Dolder said.
Safyre's story gets even more touching from here. If you've already shed a tear or two (those dang onions, right?) prepare to shed a few more.
Thanks to a charity organization called Baking Memories 4 Kids, Safyre and her family are going on an all-expense paid trip to Disney World for an entire week.
The trip has been in the making for months (since around March to be exact) and had nothing to do with Safyre's story going viral.
In addition to the hundreds of thousands of cards and the free weeklong trip to Disney, Safyre and her family have also received more than $300,000 through crowdfunding site YouCaring.com.
Those who would like to send Safyre a Christmas card or gift should address it to:
Safyre Terry
P.O. Box 6126
Schenectady, NY 12306
Be the first to receive breaking news alerts and more stories like this by subscribing to our mailing list.