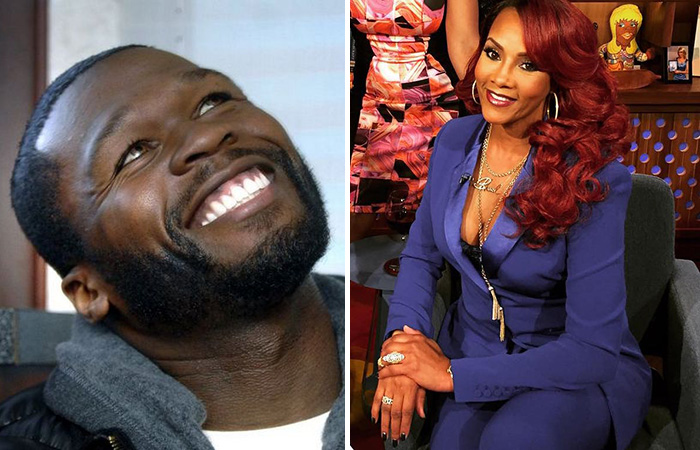 After Vivica A. Fox implied 50 Cent is gay during her appearance on Bravo's "Watch What Happens Live," Twitter immediately started lighting up with reactions, so we knew it wouldn't take long for 50 himself to respond.
Viv was discussing her role on Empire as Cookie's sister Sunday night (Nov 8) when she was asked by host Andy Cohen about her opinion on 50 Cent saying that the second season ratings dip was because of "gay stuff."
"First of all, you know, the pot calling the kettle black," she said before tilting her head to the side and flipping her hair because she knew she had just spilled a boiling pot of tea all over live TV.
Vivica added that 50 Cent looked like a "booty-snatcher" on the cover of a 2010 XXL issue he posed for with Soulja Boy.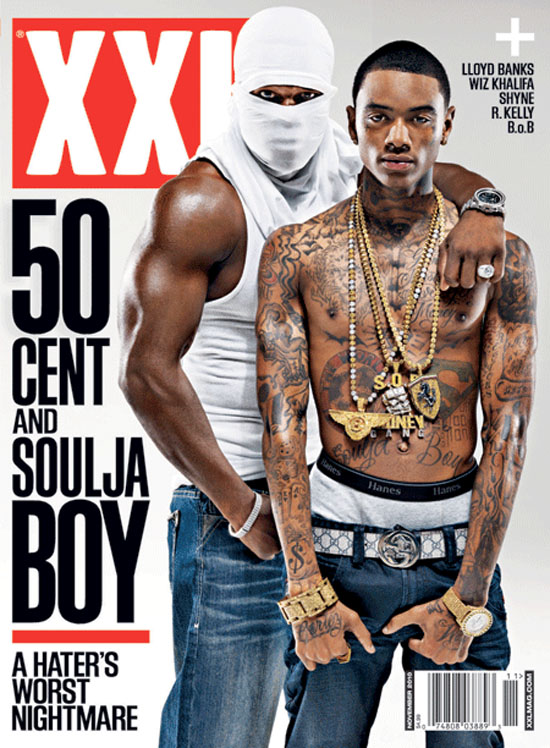 Apparently Soulja Boy was the first to notice the slander because his response on Instagram was damn near instantaneous.
He posted an unflattering photo of the actress, calling her a grandma. He captioned the image, "Everybody hit up this cougar..she's single & ready to mingle …1-800-GrannyDesperateForAttention extension I'm WashedUp [crying laughing emoji]."
Fifty responded about an hour later by posting a screenshot of Soulja Boy's "grandma" comment, along with this caption: "Oh No!!! Now she thinks I'm gay because I let her lick my A** LMAO. Wait, I didn't want her to, she forced me, my hands were tied. 50 shades of grey."
After revealing to the world that Auntie Viv ate the booty like groceries, Curtis kept the character assassination going by posting another unfavorable photo of Vivica and also suggesting that Viv is jealous of Halle Berry.
He wrote in the caption: "bitch remember when you told me f*ck Halle Berry and you could have played all the roles she did better than her? And I just looked at you like what the f*ck kind [of] shit did you take? LMAO. #EFFENVODKA"
Curtis and Soulja have both deleted their Instagram responses, but that's what screenshots are for (s/o to AllHipHop):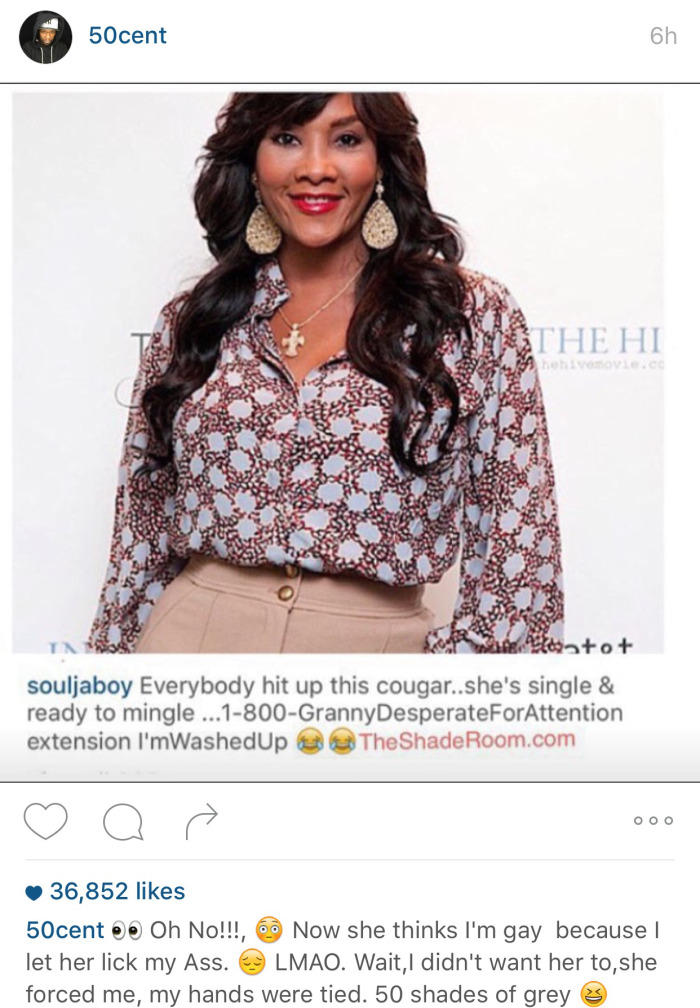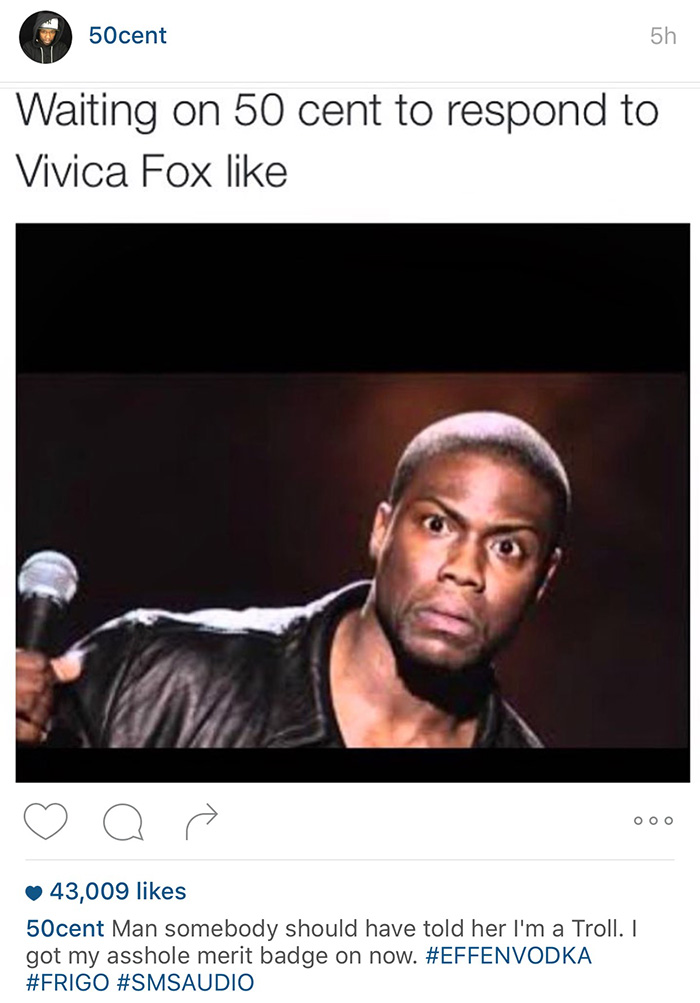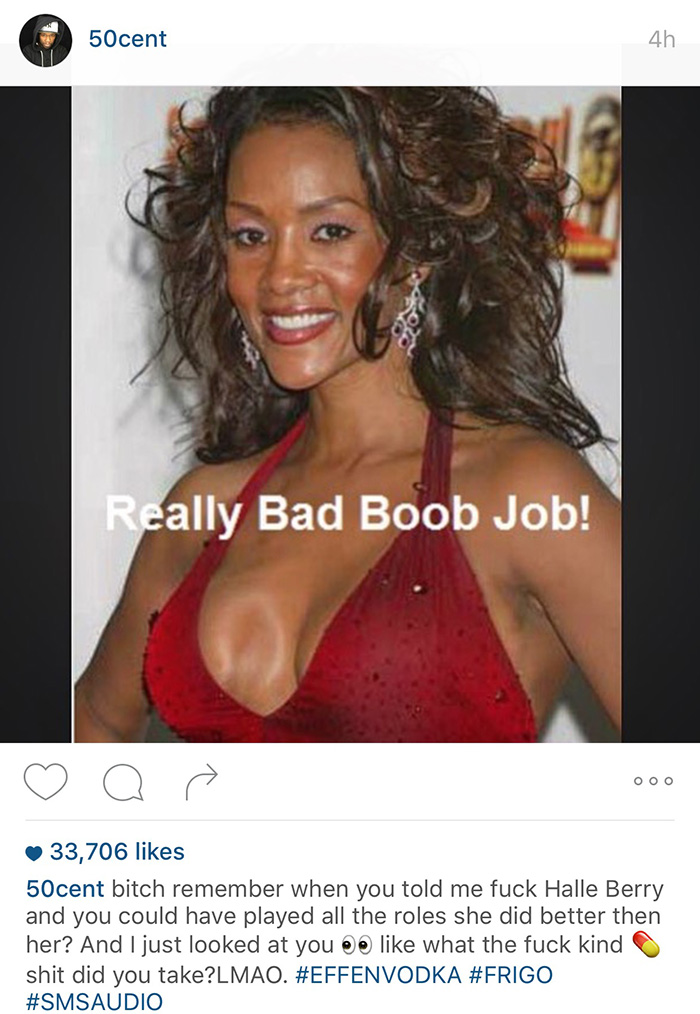 Vivica has since apologized to Soulja Boy for dragging him into this mess. She tweeted: "Let me say this!! Wasn't speaking about @souljaboy only my EX and his antics! I apologize for that to @souljaboy"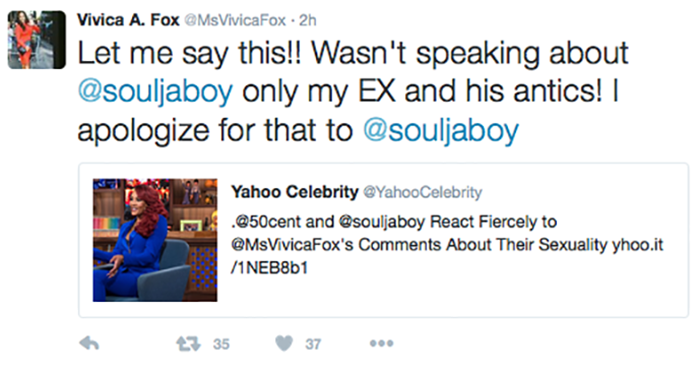 According to TMZ, Soulja Boy accepts Vivica's apology and he's welling to "let bygones be bygones."
Soulja tells us he doesn't understand why she brought his name up at all when she went off on 50 — lightly insinuating he and Soulja are gay. Soulja says he's not, and furthermore … he doesn't know Vivica.

Her attack included a reference to Soulja's shirtless magazine cover with Fiddy — which he defended, telling us he looked "dope" with his blinged out chains.
Be the first to receive breaking news alerts and more stories like this by subscribing to our mailing list.