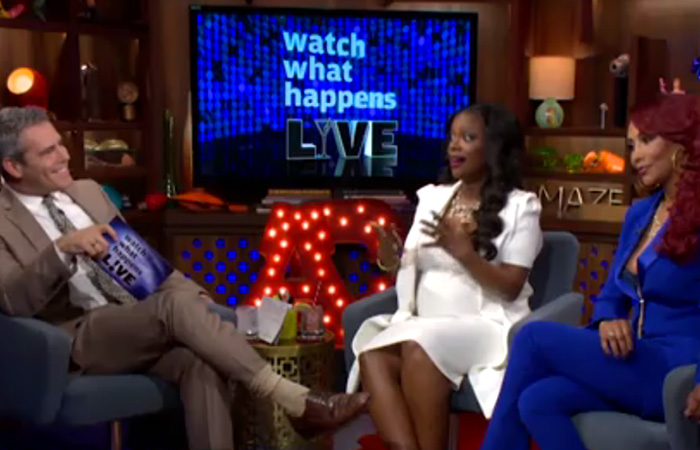 Vivica A. Fox set Twitter ablaze last night during her appearance on Bravo's Watch What Happens Live after she implied that 50 Cent was a "booty snatcher" (i.e. gay) during the live broadcast.
In case you don't remember, Fox and Cent dated waaaaaay back in 2003 (more than 10 years ago, before celebrity blogging was even a "thing").
That same year, they had a very nasty break-up, in which they both trashed each other's names in the media, with the rapper branding the actress as a "stalker" and Viv firing back basically saying she's been in this game way too long to be dealing with 50's childish antics.
Several years later (2009 to be exact) it seemed as if the former couple had made up after 50 asked Vivica to star as the leading lady in his "Do You Think About Me?" video and she obliged.
Fast forward to 2015 and now they're apparently back on bad terms, because Vivica made a HUGE accusation about 50 on live television.
Near the end of her appearance on Watch What Happens Live (alongside RHOA star Kandi Burruss), while discussing her role on Empire as Cookie Lyon's sister, Fox insinuated that 50 Cent is a closeted homosexual.
This is how it went down (via Jezebel):
ANDY: What were your thoughts when 50 Cent blamed the second season ratings dip on "gay stuff"?

VIVICA: First of all, you know, um, pot calling kettle black is all I'm saying.

ANDY: Pot calling the kettle black. Huh.

KANDI BURRUSS: That was some tea! That was major shade!

ANDY: You're not insinuating that 50 cent is…

KANDI: THAT HE'S GAY?

Vivica then pursed her lips and silently flipped her hair back. But this didn't satisfy Andy (or Kandi), so he continued questioning her.

ANDY: Wait, Vivica A. Fox, what are you insinuating.

VIVICA: Well, I mean, no, he's not, I mean, we had a good time, I mean, but he's just, seems, like he's got something that's not quite clear.

ANDY: You mean sometimes if people protest too much about something, that the actual fire is happening right there in front of them?

VIVICA: Yes. Absolutely. I'll just never forget there was a Vibe cover with him and Soulja Boy that made me go, "Hmm."…He looked like a booty snatcher on that one to me.
Ohh, the shade!!
This is the homoerotic magazine cover (XXL, not Vibe, but close…) Vivica was referring to: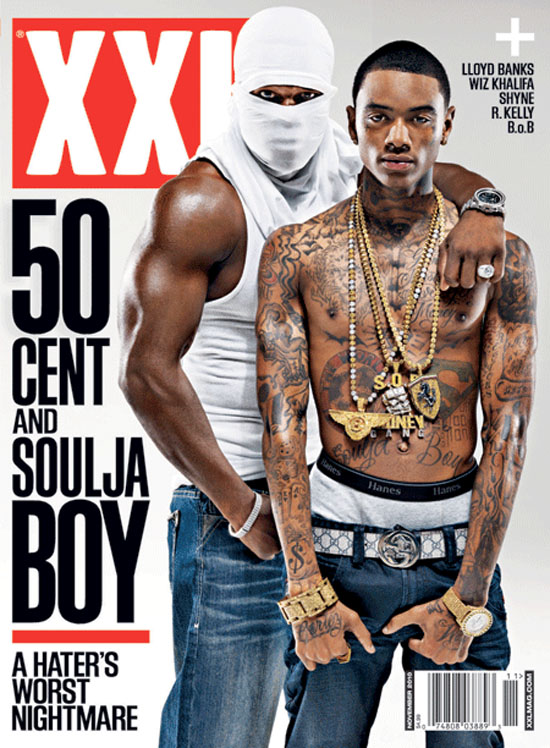 Wait. Did Vivica Fox just insinuate 50 Cent is gay? ? #WWHL pic.twitter.com/GUc4LsmWze

— Damedashbk (@DameDashBEYk) November 9, 2015
Vivica said 50 Cent is gay!!!! ???????? I believe I'm flatlining right now!!! #wwhl #RHOA

— Ci Ci (@CiCi_Nel) November 9, 2015
Yooooo, Vivica Fox just insinuated that 50 Cent is gay on Watch What Happens Live. pic.twitter.com/UWqEPlDOXc

— Ashley (@_ashleyt7) November 9, 2015
Wow #WWHL @MsVivicaFox just threw enough shade to cover the summer while I'm sipping my tea. 50 cent, gay or nah? pic.twitter.com/PEGa05kSGJ

— IamMSkye (@IamMSkye) November 9, 2015
https://twitter.com/ArchieWonder/status/663545601452298240
Be the first to receive breaking news alerts and more stories like this by subscribing to our mailing list.