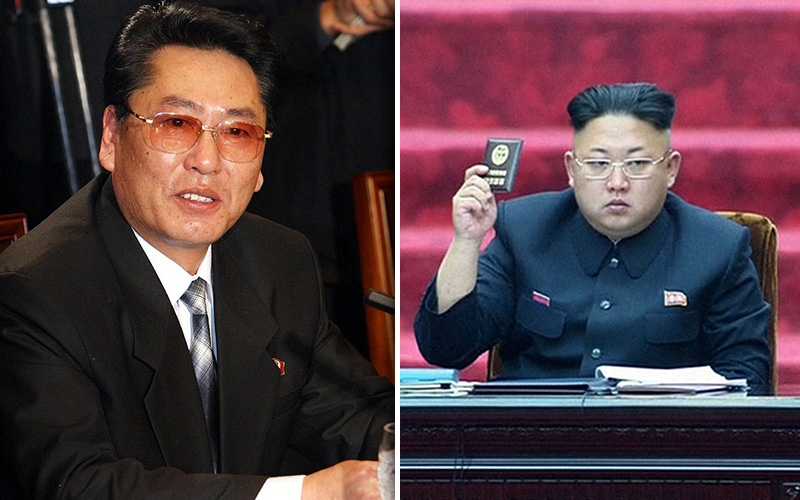 Government officials in South Korea are said to be monitoring reports that North Korea's vice-premier Choe Yong-gon was executed by firing squad back in May on the orders the corrupted country's young leader Kim Jong-un.
Choe Yong-gon's crime? Daring to disagree with "young leader's forestation policy," South Korea's Yonhap News Agency reported, citing an unnamed source (because they likely fear execution as well).
The news comes just days after North Korea announced that they were setting their clocks back 30 minutes starting August 15th to create a new timezone called "Pyongyang time" in an effort to break away from a standard put in place by "wicked Japanese imperialists."
Very few details about Yong-gon's execution have been provided by Yonhap, which is usually the first to report on North Korea news — which is often always filled with propaganda and outright lies when it comes straight from the DPRK's state-run media agency. (Remember when they said they had a "miracle drug" that cured HIV, cancer, heart disease and Ebola? Exactly.)
According to Yonhap, Choe was killed after he expressed disagreement with Kim Jong-un's forestry policies back in May and had also shown "poor work performance."
Choe was last publicly seen in December 2014, South Korea's unification ministry said, adding that they were "closely monitoring the possibility of any changes in Choe's circumstances."
South Korea's National Intelligence Service has so far declined to comment on the report to American media.
The South Korean spy agency told lawmakers in May that North Korea had executed its defense chief by putting him in front of an anti-aircraft gun at a firing range.

Choe was appointed vice-premier last year, North Korea's state-run KCNA news agency reported previously.

Yonhap said the source also said the reclusive state had publicly executed a senior Workers' Party official in September.

Choe had worked on inter-Korean affairs in 2000s, leading the North's delegation in joint economic cooperation committees with South Korea between 2003 and 2005.

He attended the 2004 opening ceremony of the Kaesong Industrial Complex, a factory park jointly run with Seoul that is the last remaining joint project of the two countries.
Yonhap reports that South Korea's state spy agency said earlier this year that Kim Jong-un has "tightened his grip on his power base in a brutal way."
Kim is believed to have ordered the execution of at least 70 senior officials since coming to power in 2011.
Back in April, South Korea's National Intelligence Service reported that Jong-un had executed more than a dozen people this year alone, including two vice-ministers and four members of the Unhasu orchestra.
When asked about the claim by CNN in May, a top official from North Korean called the allegations "malicious slander."
In 2013, it was reported that Kim Jong Un's ex-girlfriend Hyon Song Wol was executed by firing squad for "making a sex tape." It has since been proven that she is alive and well.
That same year, Kim Jong Un also reportedly ordered the execution of his uncle, Jang Song-thaek (his aunt's husband who was at one time North Korea's most powerful figure) on charges of treason after a "violent clash over clams and crabs."
It was rumored than Song-thaek had been fed to 120 hungry dogs, but a North Korea ambassador to the UK dismissed the reports. "According to the laws by the criminal court he was sentenced to death. Well he was shot to death," Hyun Hak-bong said.
In April 2015, North Korea's former defense chief Hyun Yong-chol is believed to have been publicly executed "in front of an audience of hundreds" for being disloyal toward Kim, Yonhap reports.
Hyon had reportedly fallen asleep in the middle of an event attended by Kim Jong-un and failed to carry out "instructions."
Be the first to receive breaking news alerts and more stories like this by subscribing to our mailing list.