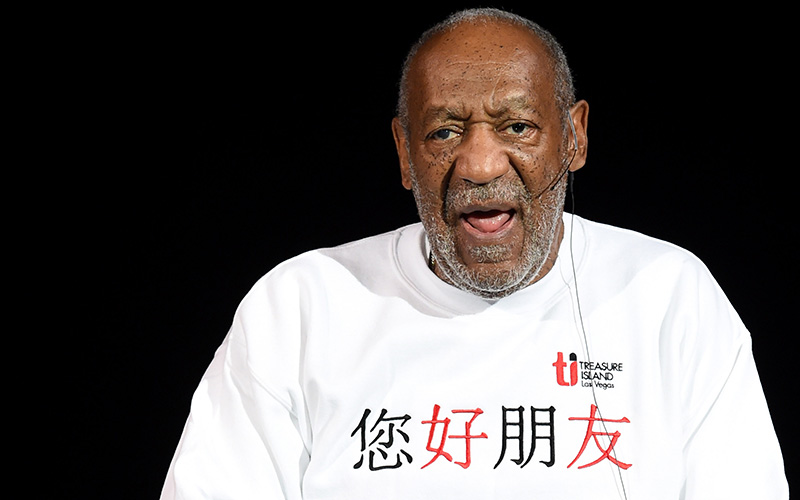 The Associated Press is reporting that Bill Cosby said in a 2005 court deposition made public Monday (Jun 6) that he purchased quaaludes, a sedative drug, with the intention of giving them to women he wanted to have sex with.
The admission was contained in 10-year-old court records that were sealed at one point, but recently become unsealed following a request from the AP.
Attorneys for Cosby had sought to keep the records sealed, arguing that their release would be embarrassing for the 77-year-old comedian turned activist. However, last month, U.S. District Judge Eduardo Robreno ruled against Cosby and his lawyers, asking "Why would he be embarrassed by his own version of the facts?"
According to the Associated Press, while under oath in a 2005 lawsuit accusing him of rape, Cosby testified that he drugged former Temple University employee Andrea Constand with Benadryl, and he eventually settled the lawsuit for undisclosed terms.
Cosby, giving sworn testimony in the lawsuit accusing him of sexual assaulting Constand at his home in Pennsylvania in 2004, said he obtained seven quaalude prescriptions in the 1970s.

Constand's lawyer asked if he had kept the sedatives through the 1990s, after they were banned, but was frustrated by objections from Cosby's attorney.

"When you got the quaaludes, was it in your mind that you were going to use these quaaludes for young women that you wanted to have sex with?" Troiani asked.

"Yes," Cosby answered.

"Did you ever give any of these young women the quaaludes without their knowledge?" Troiani asked.

Cosby's lawyer again objected, leading Troiani to petition the federal judge to force Cosby to cooperate.

Cosby later said he gave Constand three half-pills of Benadryl, although Troiani in the documents voices doubt that was the drug involved.
The revelation about Bill Cosby using Quaaludes and Benadryl to drug women comes on the heels of three more women earlier this year joining more than a dozen other women in accusing Cosby of drugging and sexually assaulting them, with some accusations dating back to four decades ago.
Though Cosby has never been criminally charged on the accusations, in part due to the statute of limitations having expired for most of the alleged assaults, his accusers have pointed to his now-leaked 2005 testimony as vindication.
"This evidence shows a pattern in which defendant 'mentored' naive young women and introduced drugs into the relationship, with and without the woman's knowledge, in order for him to achieve sexual satisfaction," said Andrea Constand's lawyer Dolores M. Troiani.
"If today's report is true, Mr. Cosby admitted under oath 10 years ago sedating women for sexual purposes," said Lisa Bloom, a lawyer for model Janice Dickinson, who revealed that she too was drugged and raped by Bill Cosby. "Given that, how dare he publicly vilify Ms. Dickinson and accuse her of lying when she tells a very similar story?"
Gloria Allred — who represents several of Cosby's accusers, released a statement saying that she hopes to be able to use Cosby's unsealed 2005 testimony in future court cases against the comedian, adding that the testimony "confirms the allegations of numerous victims who have said that he has used drugs in order to sexually assault them."
Allred said, "This admission is one that Mr. Cosby has attempted to hide from the public for many years and we are very gratified that it is now being made public."
If you're interested in reading Bill Cosby's unsealed 2005 court documents, Deadspin has a nice collection that is continuously being updated here.
Be the first to receive breaking news alerts and more stories like this by subscribing to our mailing list.