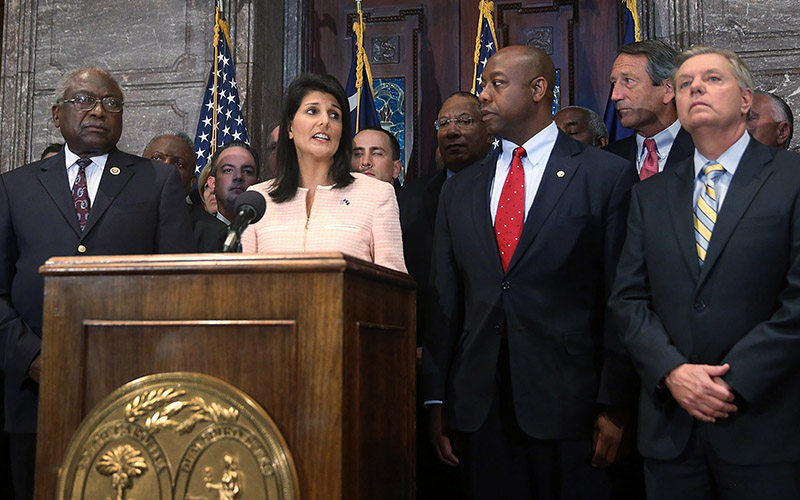 Last Wednesday evening (Jun 17), a disturbed and obviously racist White man named Dylann Roof walked into a historically Black church in Charleston, South Carolina during their weekly prayer/bible study session, and shot and killed nine Black people, including the church's senior pastor Clementa C. Pinckney, who was also a state senator.
As he took the lives of innocent people, Roof reportedly told his victims, "I have to do it. You rape our women and you're taking over our country. And you have to go." One of the survivors said Roof told them he "almost didn't go through with it because they were so nice to him," before he concluded that he had to "complete [his] mission."
On Saturday, June 20th, just days after the shooting at the Emanuel African Methodist Episcopal Church, a website that had been registered to a "Dylann Roof" in February 2015 called "The Last Rhodesian" (www.lastrhodesian.com) was discovered, and law enforcement officials confirmed that Roof was the owner.
The website included a cache of photos showing Roof posing with a handgun and a Confederate Flag, and posing in front of historical sites and landmarks all over the state of South Carolina.
The site also included a nearly 2,5000 word manifesto in which Roof methodically detailed his racist views, which were broken into six sections: "Blacks," "Jews," "Hispanics," "East Asians," "Patriotism," and "An Explanation."
Here is an excerpt from his "explanation":
I have no choice. I am not in the position to, alone, go into the ghetto and fight. I chose Charleston because it is most historic city in my state, and at one time had the highest ratio of blacks to Whites in the country. We have no skinheads, no real KKK, no one doing anything but talking on the internet. Well someone has to have the bravery to take it to the real world, and I guess that has to be me.
Days later, on Monday (Jun 22), during a press conference, Nikki Haley — the governor of South Carolina — became the latest person to urge the S.C. legislature to remove the Confederate battle flag from the state's Capitol building.
"The flag will always be a part of the soil of South Carolina," she said during a press conference. "For those who wish to show their respect for the flag on their private property, no one will stand in your way. But the statehouse is different… Today we are here in a moment of unity in our state, without ill will, to say it's time to move the flag from the capitol grounds."
Watch Here:
Gov. Haley's statement — which was met with sustained applause from lawmakers and residents in attendance — was a direct response to protestors who believe the Confederate flag is a symbol of hate and oppression, especially in the wake of the Charleston Church Shooting last week.
"That flag, while an integral part of our past, does not represent the future of our great state," Haley said.
While Haley admitted that many South Carolinians view the Confederate flag as a way to respect their ancestors, she argued that folks like Dylann Roof have a "sick and twisted view of the flag."
She added, "The murderer now locked up in Charleston said he hoped his actions would start a race war. We have an opportunity to show that not only was he wrong, but that just the opposite is happening. My hope is that by removing the symbol that divides us, we can move forward as a state in harmony, and we can honor the nine blessed souls who are now in Heaven."
Haley said she would call a special legislative session if South Carolina lawmakers refuse to tackle the issue of the Confederate flag in the next session.
Sen. Lindsey Graham, Republican National Committee Chair Reince Priebus, Sen. Tim Scott and other S.C. government officials — who all happen to be Republicans — joined Governor Haley in calling for the flag to come down.
Sen. Graham previously said the flag "is part of who we are," but that he would be "fine" with taking the symbol down. He said in a statement Monday, "After the tragic, hate-filled shooting in Charleston, it is only appropriate that we deal once and for all with the issue of the flag."
Be the first to receive breaking news alerts and more stories like this by subscribing to our mailing list.