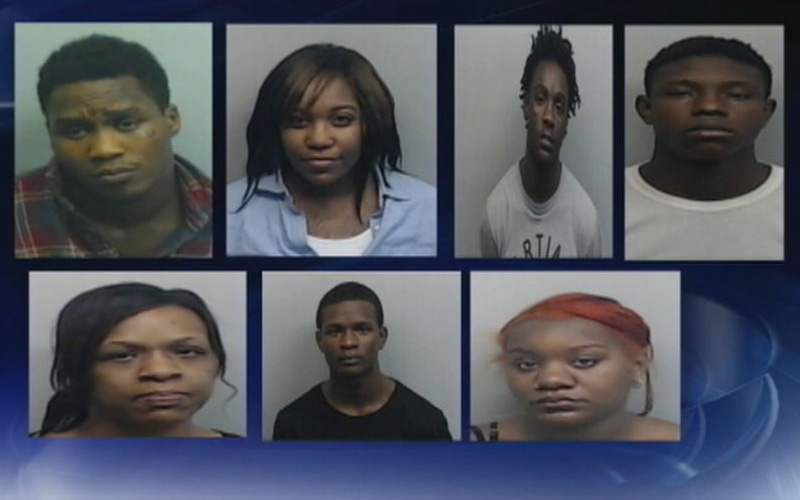 Police say Atlanta area gang members used fake Craigslist ads for cars that didn't exist in order to lure people and rob them.
According to ATL radio station wsbradio.com, police rounded up seven suspects — which include a mother and two sons — accused of posting bogus car ads on Craigslist then robbing potential buyers of their cash.
Atlanta Police Deputy Chief Darryl Tolleson said the suspects robbed more than a dozen victims of over $20,000 in cash and personal items.
The individuals — Darious Harris, JuJuane Harris, Tayza Harris, Aqueelah Jannah, Jacorey Johnson, Tereka Mills and Cameron T. Neeley — are believed to be affiliated with the gangs "Billy Bad Ass" and "9 Trey," which both have loose affiliations with the infamous "Bloods" gang.
"We see that a lot of gangs are looking at something that would be considered a very easy out, something quick cash, they can get rid of very quickly, and very difficult to solve for the case," Atlanta Police Department Investigator C. Kettel said. "So we saw that the Craiglist was very big. It's an easy way to get people from outside the city of Atlanta that would not be able to identify them."
The first robbery happened in June 2014 and when two more robberies were reported in July, police noticed a pattern, especially since the crimes took place in one square city block of southwest Atlanta.
The robberies continued through December and authorities say the gang members weren't afraid to get violent.
"We had one incident where one of our victims was actually struck with the weapon that was used," APD Investigator Dominique Pattillo said. "We had another incident where one of the victims became cautious of the area she was in and attempted to drive off. They fired around her."
While the robbery victims were White, Black, and Hispanic, the gangsters targeted mostly Hispanics under the (incorrect) notion that those victims would be too scared to report the crimes to the police.
With that in mind, police believe there could be more victims who have so far been afraid to come forward, and they are encouraging them to do so now.
Pattillo said the crooks never had any real cars for sale. They used pictures of real vehicles for sale online, then changed the graphics to include their own contact information along with great prices in an effort to lure would-be buyers.
Meanwhile, APD Chief Tolleson advises Craigslist users to meet in well-lit, public places, with cameras; set up more than one meeting with the potential buyer or seller (instead of showing up with cash the first time); take a friend with you; tell others where you're going; and, above all, trust your instincts.
Investigator Patillo even went as far as to suggest handling Craigslist transactions at a police station.
"Whether you feel suspicious or not…I would mostly advise [meeting at] a police precinct," he said. "It's no problem going to a police precinct, knocking on the door, saying, 'Hey, I have a transaction I want to make on Craigslist. Can you come out and assist me?' I don't think an officer in the city would have a problem assisting somebody doing that."
Also, keep in mind that if something (especially the price of a used car) sounds like it's too good to be true, 99.9999999999% of the time it usually is.
h/t: Jalopnik
Be the first to receive breaking news alerts and more stories like this by subscribing to our mailing list.