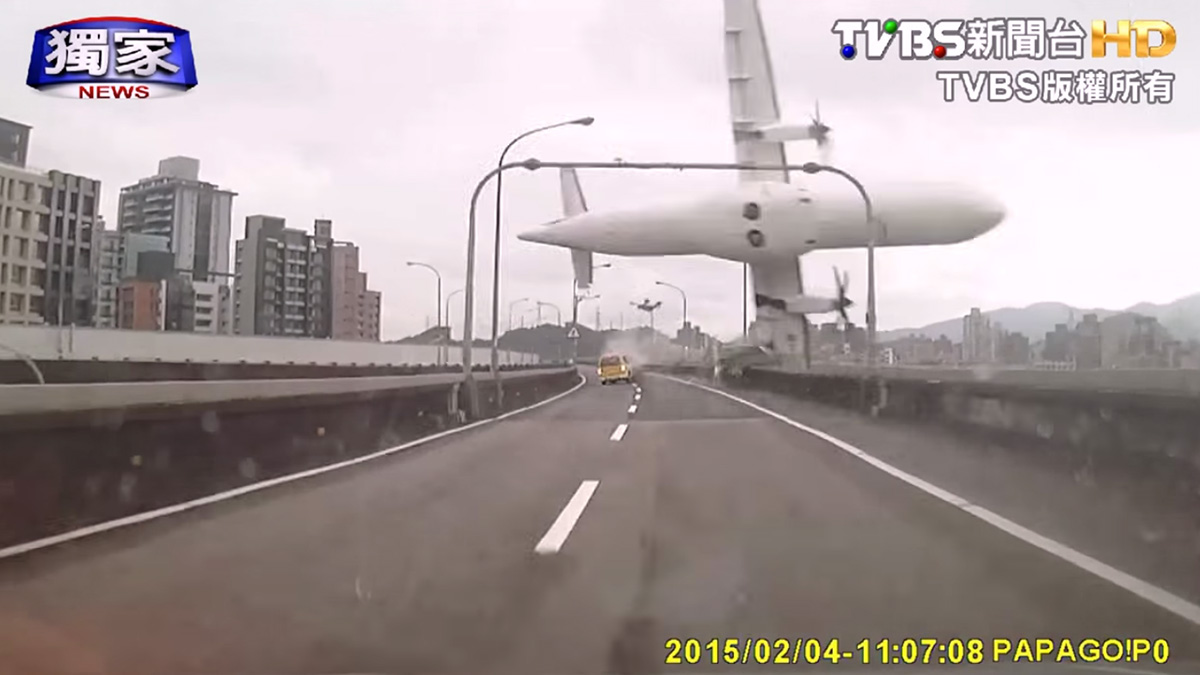 Drivers in Taiwan captured the dramatic moment when a small TransAsia plane collided with a bridge before eventually crashing into the river below, killing at least 32 people on board and injuring more than a dozen others who survived the crash.
The Taiwan TransAsia ATR 72 plane, which was carrying 58 passengers and crew members, crash-landed in Taipei's Keelung River river Monday (Feb 3) minutes after taking off from an airport nearby.
Dashcam footage recorded by a motorist who was driving behind a taxi cab that was clipped by the plane's wing shows the plane making a sharp left roll as it descends over a highway. The plane's wing also took out a section of the bridge before careening into the river.
Just before the crash, someone from the cockpit (possibly the pilot) made a mayday call because of an engine problem. He reportedly said, "Mayday, mayday, engine flameout," according to Taiwanese aviation officials.
"Engine flameout" refers to flames being extinguished in the combustion chamber of the engine, so that it shuts down and no longer drives the propeller. Causes could include a lack of fuel or being struck by volcanic ash, a bird or some other object. "Mayday" is an international distress call.

At least 32 people on board the ATR 72 were killed and 15 survivors were injured in the crash in Taiwan's capital, the latest in a series of aircraft disasters befalling Asian airlines. Divers were searching in the river for the remaining 11 people on board, including the two pilots. The plane's black boxes were found overnight.
Officials believe the pilot intentionally avoided hitting high-rise buildings by following the line of the river and brought the plane down in the water rather than crashing on land to avoid more fatalities.
Map showing where #TransAsia Airways flight #GE235 crashed in Taipei's Keelung river pic.twitter.com/Xgqi6aG3Pv

— AFP news agency (@AFP) February 4, 2015
Taipei Mayor Ko Wen-je praised pilot Lio Chien-tsung's actions as heroic for not crashing the plane into any buildings, power lines or roads.
"We really have to thank that pilot," Ko said. "He really tried his hardest."
Be the first to receive breaking news alerts and more stories like this by subscribing to our mailing list.