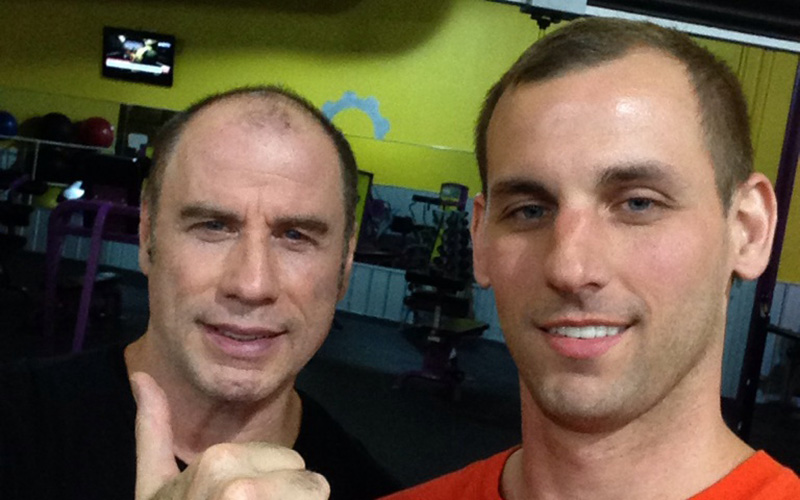 So what exactly was John Travolta doing in that gym at three in the morning?
Travolta made headlines last week when he was captured in a photo shortly after introducing himself to a male stranger at the gym, where they were all alone, together, at 3 a.m … which is totally not unusual at all.
Now John and his new friend are explaining exactly what happened in that gym, where they were all alone, together, at 3 a.m.
"[I work out] for my health… as you get older, if you have kids that are young – I mean, my son's 4 and my daughter's 14. I should be really a grandfather, but I'm a father," John told Access Hollywood at the Living Legend Aviation Awards Friday (Jan 16). "They still want me to play with them at the level of a much younger man. So in order to stay healthy for them, that's what I do."
Whatever you say, John. WHATEVER YOU SAY.
Meanwhile, this is John's new friend Justin Jones' story, as told by the National Enquirer:
It took the married dad of two stepdaughters just minutes to believe that John was keen on meeting him, based on his "body language" and questions.

"I was completely aware of what was happening," said Justin. "He just walks right up to me and introduces himself – 'Hi, I'm John.'"

But the 15-minute conversation soon took a turn towards awkward, claimed Justin.

"He asked what I do for a living, if I was married, if I have kids, and what do I do with my spare time," added Justin.

When asked if he thought John was sizing him up, Justin said, "I understood what was happening when it was happening – it was in his body language. It didn't make me uncomfortable, but I noticed it."
So let's get this straight. John Travolta — with a net worth of over $160 million — can afford to park his two planes in the driveway of his home, which is a fully functional friggin' AIRPORT, btw … but he doesn't have a home gym?
OKAY.
Be the first to receive breaking news alerts and more stories like this by subscribing to our mailing list.