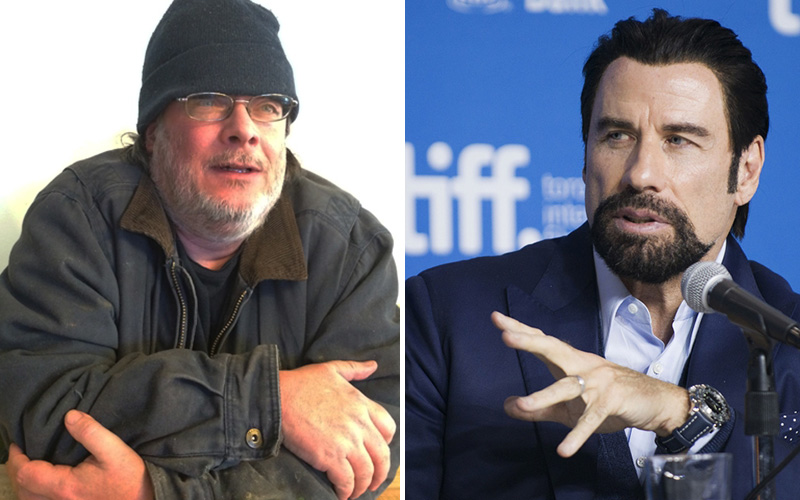 Hot on the heels of the release of HBO's revealing documentary about the infamously troubled Church of Scientology, John Travolta's nephew Sam has come forward with some strong accusations against the controversial church that would be considered "shocking" if we weren't talking about the same church that operates like a cult inspired by the Italian mafia.
In an exclusive interview with the National Enquirer, Sam Travolta claims he was under "psychological warfare" and "mental control" by the church, and it was so unbearable that he even attempted suicide to escape.

"Scientology almost killed me!" Sam declared in a no-holds-barred interview. "It's psychological warfare, and after a while it gets to you. Things got so bad that I tried to jump off a bridge in Los Angeles in January 2007, trying to kill myself!"

After that failed suicide attempt, Sam said he spent 28 days in a mental treatment center.

Sam said the persecution included Scientology members "planting drugs on me," and "spreading rumors around town that I was psychotic, and even worse – a pedophile!"

The abuse continued for years, according to Sam, and most shocking to him was the fact that his famous uncle couldn't intervene on his behalf.
John Travolta is known as one of the most high-profile celebrities in Scientology, and he and his wife Kelly Preston (who is also a Scientologist) have publicly credited the church with helping them deal with the 2009 death of their son Jett.
But according to Sam, who described himself as a "struggling screenwriter," his Uncle John told him he wouldn't be able to save him from the church's persecution: "My Uncle John told me, 'Sorry, Sam, I can't help you. They don't care who I am.'"
Though he can't provide moral and physical support, John does provide financial support with a monthly allowance of $1,800 through Sam's father Sam Sr. "I'm a struggling screenwriter living in a tiny one-bedroom apartment, so John's money helps," Sam said.
Sam also said his uncle never pressured members of the family into joining Scientology, though he does admit Uncle John was a lot "friendlier" to family members who were part of the church.
Sam insisted that he never received any special treatment from the church just because he was the nephew of a famous actor.
The 47-year-old said at one point he worked as a file clerk at a Scientology facility in Los Angeles, "making $36 for a 60-hour week," where he was "constantly being yelled at to work faster."
Then, there was the harsh treatment he received from the church once he made it clear he was leaving. Sam claimed members of the church would mouth to him, "You are dead," over and over again. "It was all about mental control for them," he said.
Now that the attacks have stopped, Sam said he's moved on and he's finally trying to get his life back on track.
Meanwhile, Sam's interview couldn't come at a worse time for the church, considering HBO's documentary "Going Clear" premieres this month.
The film, which is based on the book of the same name, takes a look at Scientology and how its treatment of A-list members like Tom Cruise and John Travolta differs from others in the church.
The book, which was released to widespread critical acclaim in 2013, is based on interviews conducted with over 200 members of the religion who decided to leave the church.
John Travolta's lawyers are denying the claims made by his nephew in his National Enquirer interview, because of course they would.
Be the first to receive breaking news alerts and more stories like this by subscribing to our mailing list.