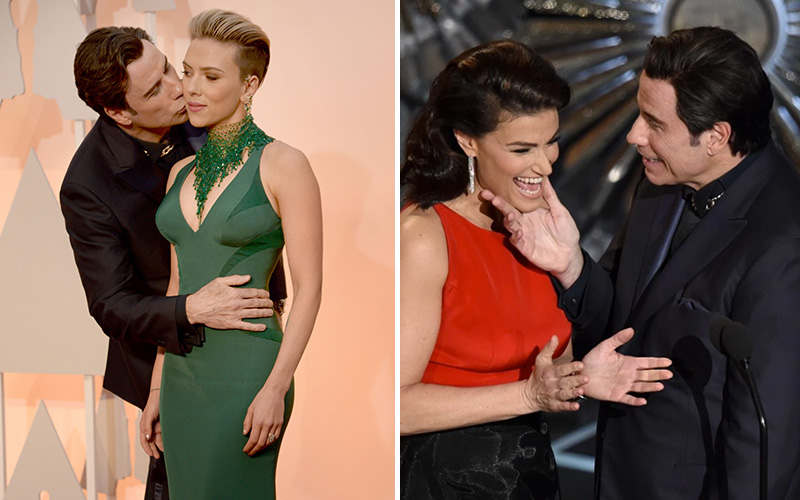 You know that creepy uncle that shows up to the family barbecues being all weird and touchy feely with the ladies (and maybe the guys too when no one is looking)?
That was John Travolta Sunday night (Feb 22) at the 2015 Oscars. The man just could not keep his hands to himself.
Well, here's a weird picture of Scarlett Johansson and John Travolta at the #Oscars: http://t.co/uv6KXxyIcn pic.twitter.com/jFlDSJ3Kko

— Vulture (@vulture) February 23, 2015
It started with Scarlett Johansson on the red carpet. As she was posing for photos, Creepy Uncle John slinked up behind her and planted a light kiss on her cheek. You can almost feel the awkwardness permeating from the picture just by looking at it.
After that, John was even more awkward during the live telecast when he grabbed Idina Menzel's chin in a bit that referenced Travolta screwing up the pronunciation of Menzel's name at last year's Academy Awards. (He introduced her as "Adele Dazeem.")
"Ladies and gentlemen, please welcome to the stage my very dear friend, Glom Gazingo," the Frozen singer and Tony Award winner joked while Travolta made his way to the stage.
"I deserve that," John responded, before grabbing Idina's face by the chin and properly pronouncing her name.
The whole thing was cringeworthy and Menzel looked so uncomfortable, but according to Travolta's rep, it was planned.
"It was rehearsed in total," the rep clarified to Us Weekly. "John Travolta loved working with Idina Menzel. John had a great time at the Oscars because his wife, Kelly Preston, and his daughter, Ella, were in attendance with him."
But of course John's rep would say that. Another source told E! News that the incident was NOT rehearsed. "John started doing it backstage right before Idina went on to introduce him. It was so weird," the source said, which sounds way more believable.
Meanwhile, a body language expert analyzed both the Scarlett Johansson and Idina Menzel incidents and concluded that we shouldn't feel sorry for either of them and reserve our sorrow for John Travolta, who clearly embarrassed himself.
"Greeting rituals of any kind are all about status and power displays and perhaps the veteran film star thought a little faux-sexual fooling about might actually receive a grateful and complimentary reception from the two women," Judi James, author of The Body Language Bible, told the UK's Independent. "Unfortunately both took on the facial expressions of someone having their leg humped by an over-keen puppy, creating the perfect storm in terms of body language poses."
James added, "Grabbing Johansson might have worked had she screamed with delight at the surprise intervention. But instead she turns her head away as he tries to plant a kiss on her cheek and then she lowers him even further by staring deadpan into the camera."
James continued, "Travolta's body language with Menzel is rather more bizarre as he seems to persist in his hilarity despite the fact that her signals are suggesting he should stop. This was presumably based on a shared joke about forgetting her name but his chin-grasp suggests a determination to hold her in the pose he wants to perform, complete with eye contact and romantic-looking smiles.
"Unlike Johansson, Menzel is smiling as she pulls away but her teeth are clenched, suggesting a polite social rictus rather than a grin of shared fun and then breaking away to clap suggests she wants the audience to help her out of the predicament."
So the question remains: Why was John Travolta being so weird with women at the 2015 Oscars? The world may never know.
Be the first to receive breaking news alerts and more stories like this by subscribing to our mailing list.