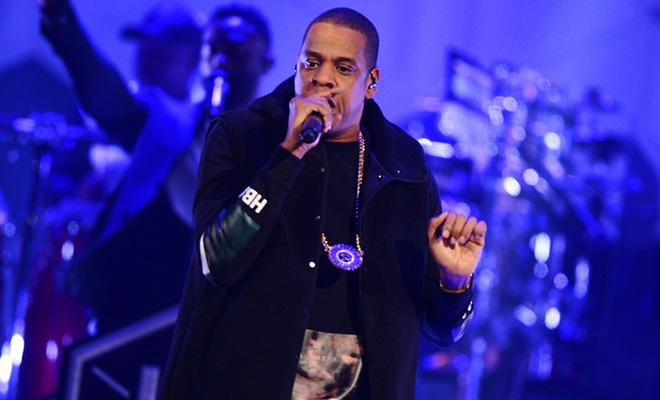 After meeting with New York governor Andrew Cuomo, Brooklyn rapper Jay Z was referred to as a former drug dealer in headlines from the New York Post and Fox News.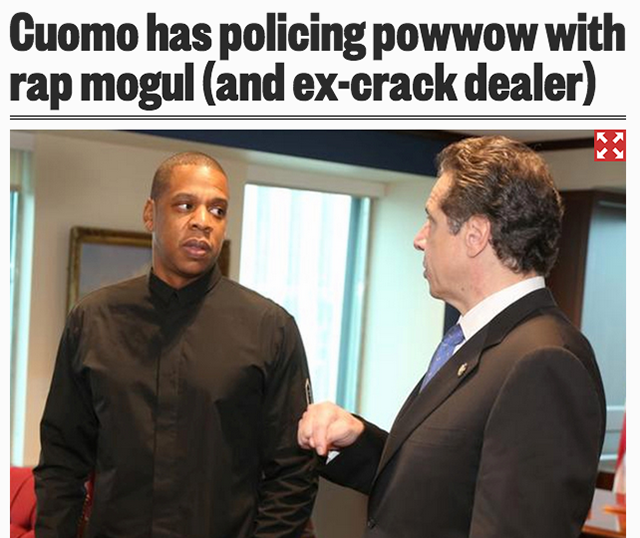 In a story published by the New York Post's Page Six gossip site last Friday (Dec 12), Jay Z was called an "ex-crack dealer." The very first line of the article reads: "When you need advice on a subject, you go to an expert."
Page Six continued:
Gov. Andrew Cuomo did just that when he had a policy meeting on the subject of how cops enforce the laws with hip-hop mogul Jay Z — who earned most of his expertise in crime as a crack dealer.

The governor's spokeswoman, Melissa DeRosa, on Wednesday described their confab in Cuomo's Midtown office as "productive." The two discussed "a top-to-bottom review of the criminal justice system and how we can all work together to pass a reform package," she said.

The rapper built his musical career on songs about his past criminal exploits slinging crack in Brooklyn's Marcy housing project. One online report lists 187 references to crack or cocaine on his 12 solo albums, including last year's chart-topping "Magna Carta Holy Grail."

In addition to his rap boasts about drug dealing, his criminal justice experience includes being charged with stabbing people and bashing them on their heads with bottles at his favorite city nightclubs. David Laska, a spokesman for the state GOP, was outraged about the meeting.

"Given Jay Z's history with the law, he's as serious a source on police policy as Vladimir Putin is on freedom of speech," he said. "That kind of a photo-opportunity politics from the governor is the opposite of leadership."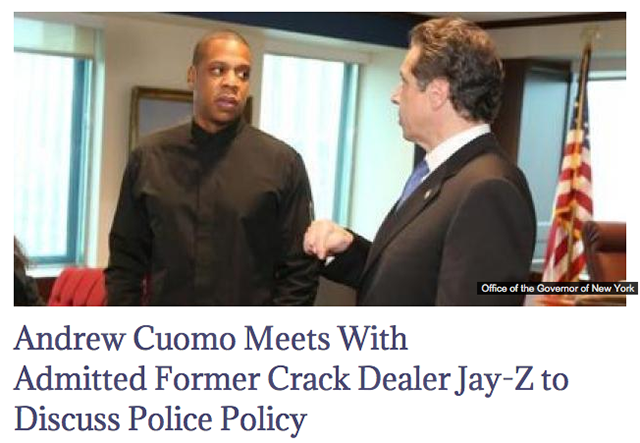 Fox Nation (which somehow accomplishes the great of feat of actually being worse than their parent Fox News) republished Page Six's story but with a different but similar headline: "Andrew Cuomo Meets with Admitted Former Crack Dealer Jay-Z to Discuss Police Policy."
Fox and the Post will likely leave their headlines unchanged, but we're sure Jay Z couldn't care less because he has better things to worry about, like being married to Beyoncé.
Be the first to receive breaking news alerts and more stories like this by subscribing to our mailing list.