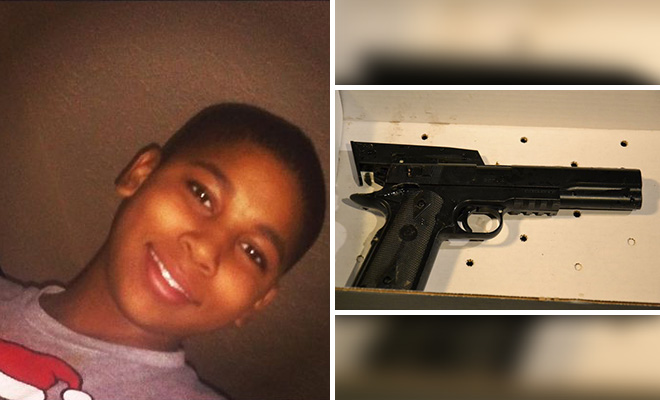 The police shooting death of the 12-year-old boy from Cleveland, Ohio who was holding a toy gun has sparked an investigation, but contrary to previous reports, the boy did not point the fake gun at officers before he was shot.
Tamir Rice died Sunday (Nov 23) of a gunshot wound to the abdomen, just one day after he was shot by a police officer responding to a call about a boy at a playground pulling a gun in and out of his pants.
The 911 caller said the gun was "probably fake," though it isn't known if that information was shared with the trigger-happy police officer.
Deputy Chief Ed Tomba confirmed the boy did pull out the fake gun (pictured above on the right), but he did not point it at police as previously suggested.
Police said they couldn't tell Tamir's toy "airsoft" BB gun apart from a real one because the plastic orange tip designed to make it distinguishable from a real firearm had been removed.
Authorities said the boy was told to raise his hands and was shot when he pulled the pellet gun from his waistband, though he hadn't pointed it at police or made verbal threats.

"Our officers at times are required to make critical decisions in a split second," Chief Calvin Williams said. "Unfortunately this is one of those times."

Tomba said surveillance video of the shooting is "very clear" about what occurred, but he wouldn't discuss details of what it shows.

People representing the boy's family viewed the video Monday, but police didn't release it publicly because it is considered evidence and because they want to be sensitive to the family, the community and the officer, who is distraught, officials said.

The shooting has led to an investigation of the officer's use of force. It also contributed to a state lawmaker's plan to propose legislation requiring all BB guns, air rifles and airsoft guns sold in Ohio to be brightly colored or have prominent fluorescent strips.

Once the investigation is complete, the case will be presented to a grand jury to decide whether any criminal charges should be brought, Cuyahoga County Prosecutor Timothy McGinty said.

The two officers involved in the shooting were put on administrative leave under standard procedure. Police haven't publicly identified them.

At least 100 people gathered near a recreation center at the playground Monday night to show support for the boy's family. Some demonstrators carried signs that read "Danger Police in Area" and "Police Terror: This Stops Today." They chanted, "Justice for Tamir!"

"We will not accept any excuse why this young man was shot down unjustly," said Art McKoy, a Cleveland community activist at the demonstration.
Tamir's father Gregory Henderson doesn't understand why the officer chose to use a pistol on his son instead of a stun gun.
"Why not tase him?" Henderson asked, according to the Cleveland Plain Dealer. "You shot him twice, not once, and at the end of the day you all don't shoot for the legs, you shoot for the upper body."
Be the first to receive breaking news alerts and more stories like this by subscribing to our mailing list.