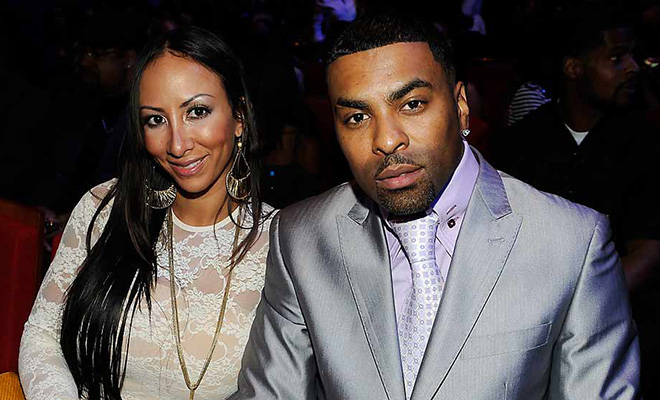 Fans of Ginuwine were shocked to learn that the R&B singer was broke and on the verge of bankruptcy after putting a ton of money into a "secret" divorce from his wife Solé. Now Ginuwine is speaking out and clearing up a few details about the rumors.
The "Pony" singer wrote in a now-deleted Instagram post that he and his wife aren't yet divorced, but are "separated" as they work to end their marriage "amicably" without lawyers. He also accepts responsibility for the demise of his marriage, hinting at possibly infidelity on his part.
"I need to address yesterday's rumor because it is not totally accurate and I don't want my wife being made out to be the bad guy here.

"We are NOT yet divorced, but we ARE currently separated and working towards coming to our own agreement, without lawyers, to amicably and fairly divorce.

"Reports that she left me 'broke' are untrue. She has been a good wife and mother and my poor choices and actions over many years have lead to this.

"I am on a path of becoming a better man and part of that is taking responsibility for my own choices and behavior in life, so that's what I'm doing by releasing this statement."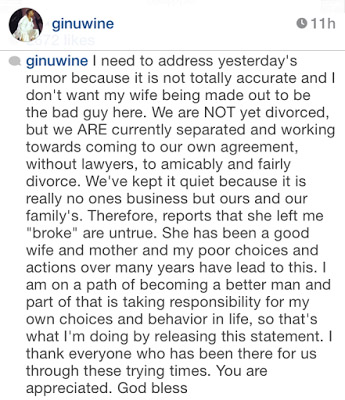 He doesn't mention his finances specifically, but it's implied that they're too broke to afford the assistance of attorneys. The only people who get divorced without lawyers are people who don't have money.
News of Ginuwine's alleged impending bankruptcy came during a pretrial hearing for a case between the R&B singer (real name: Elgin Baylor Lumpkin) and a man named Robert Reives, who executive produced the crooner's debut album The Bachelor.
Reives claims Ginuwine owes him royalties to the tune of $250,000 from his five-album deal, which was worth $1.25 million, however, the 44-year-old TGT member says Reives' demand is null and void because it misses the statute of limitations.
Also, according to Ginuwine's own lawyer, he's broke as a joke and can't even afford his own legal expenses, so he certainly can't afford a settlement.
"Mr. Lumpkin is very close to declaring bankruptcy," Ginuwine's lawyer Bruce Beckner told the court, according to the New York Daily News. "He owes my firm a ton of money and a bunch of other people a ton of money. He owes Uncle Sam 300-odd thousand dollars in back income taxes."
Ginuwine and Solé have two daughters together, 12-year-old Dream Sarae Lumpkin and 13-year-old Story.
Ginuwine also has a 22-year-old son, Elgin Jr., from a previous relationship, as well as three other children by three different member, while Sole has two daughters — 23-year-old De'jan and 19-year-old Cypress — from her own prior relationship, making for a family total of eight children.
Be the first to receive breaking news alerts and more stories like this by subscribing to our mailing list.