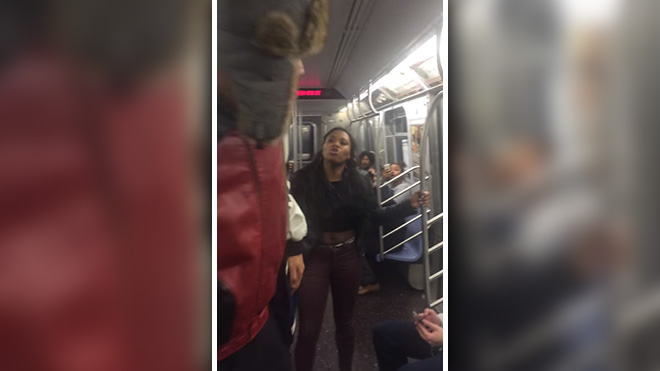 Four people were arrested and jailed in New York City following an all-out brawl that broke out on an F train subway in Greenwich Village after a man "smacked the soul" out of a woman for making fun of his jacket.
Video footage of the fight was posted online over the weekend, and it shows a woman (21-year-old Danay Howard) and her bird-brained friends cackling at a man (25-year-old Jorge Pena) and insulting his style. Howard makes fun of Pena's fur hat and points out his "bum ass 8-ball jacket that came out in 1990."
Howard then "brags" about her shoe game, saying that she has on "Steve Maddens," to which the man behind the camera responds, "Don't nobody wear Steve Maddens no more!" and that's when all hell breaks lose.
From NY Daily News:
Eventually, the man filming the incident caught Howard and her cohorts attention. The three women jump up from their seat and knock the phone from his hands twice. Moments later, as Pena's face is off camera, a male voice is heard calling Howard a "dirty bitch."

"What'd you call me?" Howard yells as she swings a leopard print high-heel and strikes Pena in the head, the video shows.

Pena then turns and slaps Howard across the face. The blow knocks the woman back five feet as another man jumps in and exchange punches with the attacker as chaos breaks out on the train.
"She got smacked, and that echoed through the entire subway," David Ratliff — the man who shot the cellphone video — told NBC 4 New York. "I heard it. Everybody on the train heard it. Everybody in Manhattan, Brooklyn, Bronx heard it."
Howard and Pena were cuffed at the West 4th St. subway station at around 5 a.m. early Saturday moring, along with 21-year-old Kevin Gil and 20-year-old Shanique Campbell, who both jumped into the brawl to support Howard after her soul was smacked from her body.
According to the NYPD, Pena, Gil and Campbell were charged with misdemeanor assault and disorderly conduct, while Howard was charged with felony assault for using a weapon (the shoe) in the attack.
Jorge Pena was reportedly taken to a nearby hospital with minor cuts to his face (from getting hit with the shoe).
No word on whether or not Howard got her soul back.
Watch the full clip above and NBC4 NY's news report below:
Be the first to receive breaking news alerts and more stories like this by subscribing to our mailing list.