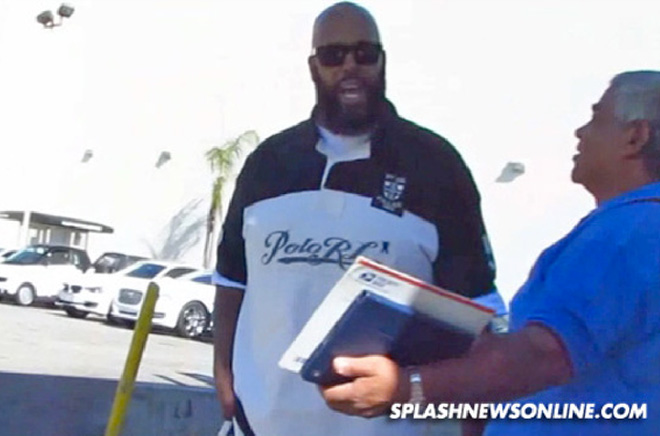 Partners in crime Katt Williams and Suge Knight are both notoriously known for their share of legal issues, and the two were arrested last week for an incident that happened on September 5th in Beverly Hills.
The two troubled celebrities were charged with robbery after they allegedly stole a camera from a female photographer. According to TMZ, Katt was arrested Wednesday morning (Oct 29) when he showed up in court for a separate case, and Suge was picked up in Las Vegas.
As a result of their "lengthy rap sheets," TMZ reported that the D.A.'s office says if convicted, Suge could face up to 30 years to life in a state prison, while Katt could get up to seven years.
The incident is reportedly under investigation, and both Katt and Suge continue to deny involvement in the alleged robbery.
Meanwhile, TMZ has released a video purportedly showing the events leading up to the incident in which Williams and Knight tried to snatch her camera.
This is the first video of the Sept. 5 Beverly Hills incident that got Suge and Katt arrested for robbery last week. The clip starts with Suge going after a male paparazzo, but then he starts berating the chick pap from a distance — accusing her of taking pictures of his son.

Then it gets real scary. All 6'4″ of Suge marches over to her, and unleashes the threat … "I got a bitch to come beat your motherf***in' ass!"
Watch the video above!
Be the first to receive breaking news alerts and more stories like this by subscribing to our mailing list.