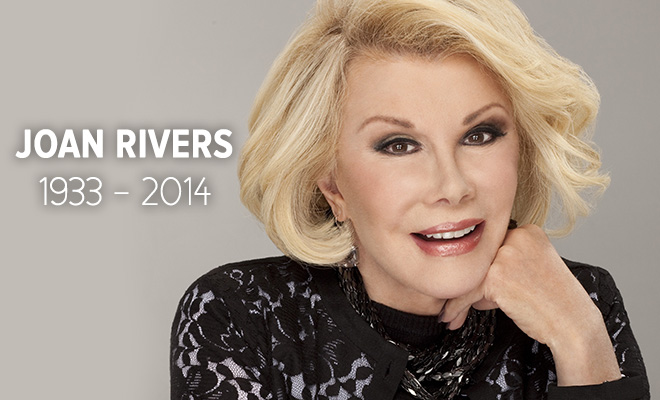 Joan Rivers, the legendary comedienne who made the world laugh for over five consecutive decades with her quick-witted (but often controversial) humor passed away today, her daughter Melissa confirmed, at the New York Hospital where she was being treated at after having complications with a recent surgery.
Rivers was rushed to New York's Mount Sinai hospital last Thursday (Aug 28) after she suffered cardiac arrest and "stopped breathing" during an operation on her vocal chords.
She was placed in intensive care and her condition was said to be "serious."
The day before her surgery, she did a comedy show at New York's Beechman Theater, and a man who attended the show told CNN that she had joked about death.
"She said, 'You know I'm 81 years old, and I could drop dead at any moment and you would be so lucky because you will have a story to tell your friends for the rest of your life,'" Michael Lucas said. "Then she mimicked people talking about what it was like to see her drop dead on stage."
Lucas added, "There was no sign (Wednesday) night that she was declining. Her show was over an hour long and she never stumbled or even paused to catch her breath."
According to TMZ, Melissa Rivers took her mother off life support today so that she could "pass comfortably" in a private room.
In a statement released to the media, Melissa said:
"It is with great sadness that I announce the death of my mother, Joan Rivers. She passed peacefully at 1:17pm surrounded by family and close friends.

"My son and I would like to thank the doctors, nurses, and staff of Mount Sinai Hospital for the amazing care they provided by mother.

"Cooper and I have found ourselves humbled by the outpouring of love, support, and prayers we have received from around the world. They have been heard and appreciated.

"My mother's greatest joy in life was to make people laugh. Although that is difficult to do right now, I know her final wish would be that we return to laughing soon."
Rivers had been placed in a medically-induced coma after she was rushed to the hospital, and after being brought of hte coma, she was placed on life support. She was taken out of intensive care and moved to a private room yesterday.
Before her death, Joan was a regular panelist on E!'s Fashion Police and she also co-starred in a WE reality show with her daughter Melissa called "Joan & Melissa: Joan Knows Best?"
But Joan Rivers, a prolific standup comic who first broke out on the scene as a guest on "The Tonight Show with Johnny Carson" in 1965, was perhaps best known for her "in your face" personality and controversial red carpet interviews during her stints as a correspondent for TV Guide and E!
Be the first to receive breaking news alerts and more stories like this by subscribing to our mailing list.