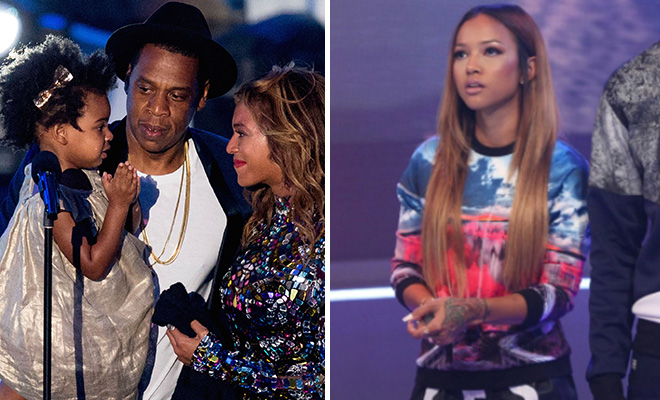 Chris Brown's on-and-off girlfriend Karrueche Tran was put in a very awkward position earlier this week when she appeared on BET's "106 & Park."
Monday (Aug 25), the day after Beyoncé killed it at the 2014 MTV VMAs, Karrueche appeared on the popular video countdown show and was doing a skit called "Top Six Things Blue Ivy Thought At The VMAs" when she f**ked up bad, real bad, Michael Jackson. And it wasn't even her fault.
Included in the skit was a crass joke mocking Beyoncé's two-year-old daughter Blue Ivy and her "uncombed" hair.
"I really did wake up like this, because my parents never comb my hair," the 26-year-old model said before quickly following up with "Sorry Blue! I love you!"
Karrueche also tweeted:
Now y'all know I LOVE me some Beyoncé and Blue Ivy! I didn't write this script y'all lol

— Karrueche Tran (@karrueche) August 25, 2014
I am definitely team #BeyHive ??

— Karrueche Tran (@karrueche) August 25, 2014
Needless to say … her apologies on TV on Twitter fell upon deaf ears, because all the BeyHive (Beyoncé's crazy dedicated legion of fans) heard was "Blue Ivy" and "my parents never comb my hair," and they let Karrueche HAVE IT on Twitter:
Just seen the clip of @karrueche throwing shade at blue, who does that? She's a kid. NOT Cool. Shame on #BET as well for airing it. ????

— MissYorke (@TashSmiles_) August 26, 2014
@karrueche bitch u not a celebrity and how dare u diss a lil baby!!!!

— Mrs (@Choco_late_legz) August 25, 2014
How Karrueche gonna throw shade at a toddler? You got nice hair and still get cheated on every 3 weeks.

— Mini Witta Attitude (@MiniGotchu) August 26, 2014
Karrueche or karate chop or whatever needs to exit before dissing blue Ivy's hair. Where's your career though?

— Boo thang. (@Jedlives) August 26, 2014
"@ShayTailored_xo: At least Blue Ivy's hair is more relevant than Karrueche." pic.twitter.com/KmmMOQn9Fx

— . (@YesImAPrick) August 26, 2014
Why karate always got something to say about people with actual careers? Blue ivy is more important than your whole being @karrueche

— Salones Best (@ALICE_RIHANNA) August 25, 2014
Karrueche got Rihanna navy AND the BeyHive hating her, that's 80% of the world

— Avi (@RecklessAvi_) August 26, 2014
Worried about Blue's hair? Worry about being a side chick & storing acorns in your mouth you chipmunk in the face looking bitch @karrueche

— ???????? (@VoiceTooSmooth) August 25, 2014
Blue Ivy will buy all of Vietnam and have ur whole fam working for House of Dereon @karrueche

— Rihanna's Wild Thing (@WTFUMeanNoRiRi) August 26, 2014
And that's just the tip of the iceberg. (Ed. note: It honestly wasn't hard pulling these tweets, even days later.)
After dealing with being dragged to within an inch of her life on social media, Karrueche responded with a lengthy apology note on Instagram, accompanied by this picture:
Past two days have been extremely draining.. As I geared up for a big day for myself – hosting a live show.. I never expected things to turn out this way.. I apologize to any and everyone who felt offended in any way by the comments made by BET executed through me.. I would never disrespect anyone's child in any way and anyone who knows me knows that I LOVE Beyoncé. My comments have been in complete shambles.. yes I am human too and yes I do make mistakes.. But all this negativity and death wishes are quite a lot.. Definitely a lesson learned from here forth.. Again, on behalf of MYSELF, my sincerest apologies  #BeyHive
According to TMZ, the joke was in a script that had been changed by producers at the last minute without Karrueche's knowledge, and she read the lines from the teleprompter as is.
We're told … it was a live show and KT had no choice but to read what was on the prompter. Afterward, she and her manager went nuclear because they also thought the joke — about a 2-year-old — was mean-spirited and in poor taste.

Karrueche tells TMZ she actually admires Blue's 'do, saying … "I love that Blue is able to wear her natural hair." She added she would never disrespect Beyonce and Blue Ivy.
Stephen Hill, President of Music Programming and Specials for BET also apologized for the joke in a series of tweets and noted that "punitive action" had been taken with "those responsible."
(1/4) Last night on 106 & Park there was a stupid, unthoughtful joke made about a young child.

— Stephen Hill (@StephenGHill) August 26, 2014
(2/4)We apologize publically to the child's parents (and have done so privately) and we have taken punitive actions with those responsible.

— Stephen Hill (@StephenGHill) August 26, 2014
(3/4)It was very bad judgment and we will serve you much better in the future.

— Stephen Hill (@StephenGHill) August 26, 2014
(4/4) Oh, and please don't hate on Karrueche; it was NOT her fault. We also apologize to her for putting her in that position.

— Stephen Hill (@StephenGHill) August 26, 2014
Be the first to receive breaking news alerts and more stories like this by subscribing to our mailing list.