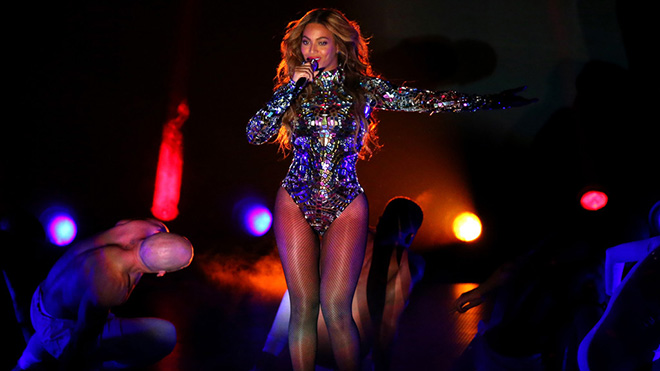 "The 2014 VMAs Existed For Beyoncé" reads the headline of an article from the popular feminist blog Jezebel.
The article is about Beyoncé's ahh-mazing performance Sunday night (Aug 24) during the 2014 MTV Video Music Awards, and we couldn't agree with it more!
The Video Music Awards closed out with a performance by Beyoncé that was seemingly the entire point of the program. The lead up to her appearance and her acceptance of the 2014 Michael Jackson Video Vanguard Award was long and paved with much mediocrity, but we were handsomely rewarded for our patience.
Rewarded? Such an understatement. More like BLESSED. But go on, Jezebel:
"MTV, welcome to my world," she said, welcoming the audience, and with that, it was gametime. If you've seen Beyoncé in concert in the past year or so, this performance probably felt familiar, but no less impressive.

She sang live, her dancing was on point and she looked stunning. Hate her or love her, (and yes, blah blah blah we know a lot of you hate her) Beyoncé is likely the finest living performer we have right now and she proved that again tonight.
And just how did she prove that she is the finest living performer we have right now?
Well, for one, she performed a 15-minute medley comprised of just about every song from Beyoncé — that self-titled album she surprised us all with last year. Who does (or even gets the opportunity to do) that? And two, she's Beyoncé. And if you don't know she's the best by now, where have you been?
So yeah, Beyoncé stole the hell out of that show … but it's not like we didn't expect her to.
Baby Blue definetly enjoyed Beyonce's performance #VMAs http://t.co/JvWQEB1qwp

— Necole Bitchie (@necolebitchie) August 25, 2014
What we did not predict, however, was little Blue Ivy being her adorable little self in the crowd doing the "***Flawless" hands and also this beautiful family moment as Beyoncé aka the "greatest living entertainer" accepted her Video Vanguard Award from her husband Jay Z and their 2-year-old daughter:
Beyonce & Jay Z silence the divorce rumors with one swift smooch: http://t.co/y8BoOkRFSm #VMA pic.twitter.com/2NffFpraTq — MTV News (@MTVNews) August 25, 2014
And then Blue said "Good job mommy," and the whole world smiled and said "AWWW!!!!"
<3