A young man was excited to send his mother a picture of himself posing with Oprah on a recent flight back home from a trip to California.
And his mom was just as (if not more) excited, because she shared the photo on Instagram with the hashtags "#awesome," "#toocol," "#jetlife," and, of course, "#oprahwinfrey."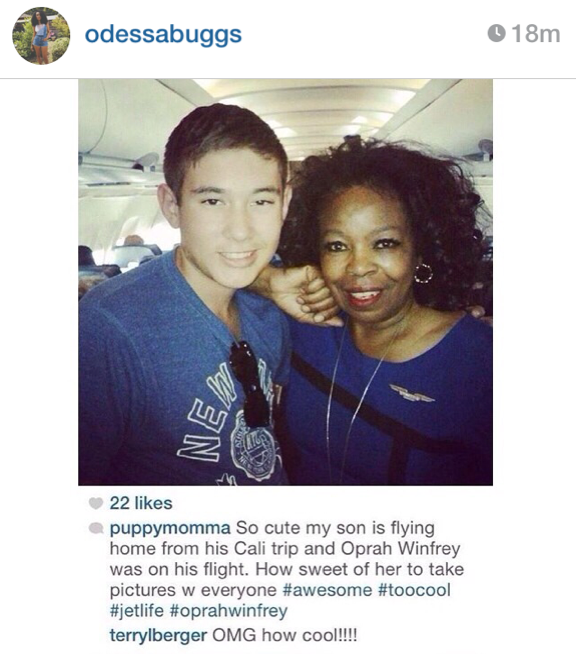 The caption in the image reads:
So cute my son is flying home from his Cali trip and Oprah Winfrey was on his flight. How sweet of her to take pictures w everyone #awesome #toocool #jetlife #oprahwinfrey
"OMG how cool!!!!!" replied one user.
Posing for a picture of Oprah IS "#awesome" and "#toocool," but perhaps we should check to make sure the person in the photo is really Oprah Winfrey before we get all social media happy and what-not.
Take note of the pin on the woman's shirt (possibly indicating that she is a flight attendant and someone who is not Oprah Winfrey) as well as the fact that Oprah is a friggin' BILLIONAIRE who does NOT fly commercial.
For what it's worth, after discovering that the woman in the picture was indeed not Oprah Winfrey, but a woman actually PRETENDING to be Oprah Wifrey, "@puppymomma" took the original Instagram post down and replaced it with this lengthy explanation:
You may want to read this before becoming cruel, mean spirited or judgmental. Now whereas I don't mind what anyone thinks as I live a very happy peaceful life. As a parent as I'm sure many can relate when your child becomes involved you will be quick to set facts straight.

Firstly, I was NOT on this flight nor did I take this picture my son has been flying coast to coast alone for yrs. Of course I didn't think this woman looked much like Oprah but when my son told me the story I thought OK guess she just looks different as many people do w no make up.

I could not fathom a pilot and lady lying to my son. He called me on his layover so excited telling me who he had just met. She told him she was doing a piece for O magazine and was allowing people to come to the front of the plane for pictures at the end of the flight. He said the pilot even thanked her by name.

I feel so bad for my kiddo who here he thought got to meet someone special not only to be doused w the fact it wasn't but now cruelly made fun of by adults for being lied to smh. So plez learn facts before judging someone…thank you to those who actually care to know what happened
Plez learn "the facts" before judging others. PLEZ!
h/t: Miss Jia
Be the first to receive breaking news alerts and more stories like this by subscribing to our mailing list.