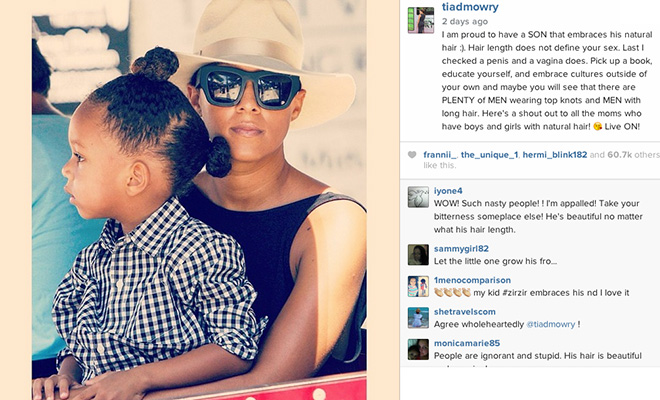 Social media is known to be a place where personal opinions are expressed about news and current events, the media, celebrities, etc. And while most people with good sense know not to target children (regardless of how rich/famous their parents are or aren't) … some folks just don't care.
A couple months back, Beyoncé and Jay Z's 2-year-old daughter Blue Ivy ended up in the crosshairs of Internet trolls who kept making comments about her hair. Things got so bad that a petition was created, and bloggers were forced to respond with diatribes about Blue Ivy's hair and "why it matters."
The latest celebrity to have to deal with the comments from Internet bullies is Tia Mowry-Hardrict, who posted a few photos on Instagram of herself and her son Cree spending time together.
The photos show the adorable 3-year-old wearing a topknot and a small bun in the back of his head. Cree's hair is naturally curly, so to keep it tamed for the outing, Tia tried a new style.
But people who follow Tia's account didn't think the hairstyle was appropriate for a little boy, but instead, a girl and they let it be known in the comments. The debate went on for a while, and the "Instant Mom" star eventually responded with a whole new post: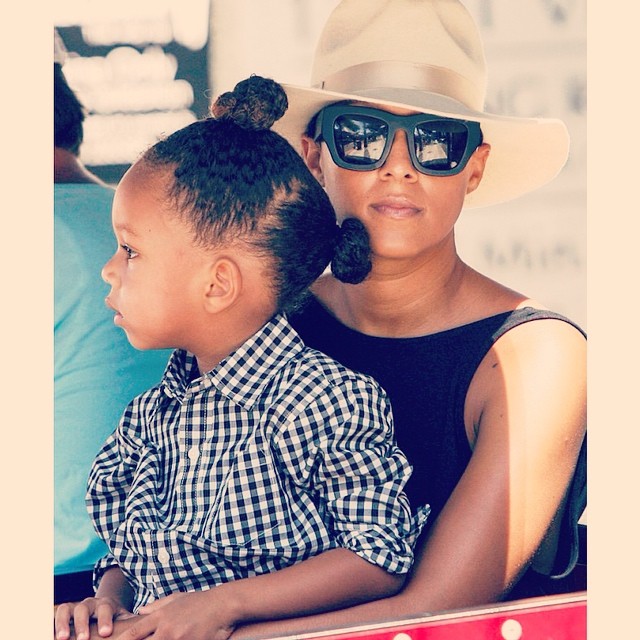 She wrote in the caption:
I am proud to have a SON that embraces his natural hair :). Hair length does not define your sex. Last I checked a pen*s and a vag*na does. Pick up a book, educate yourself, and embrace cultures outside of your own and maybe you will see that there are PLENTY of MEN wearing top knots and MEN with long hair. Here's a shout out to all the moms who have boys and girls with natural hair! Live ON!
Sadly, this isn't the first time the actress has had to deal with responding to people for making comments about her son.
In 2012 when Internet trolls criticized her then 1-year-old son's looks, she said, "I really don't understand why people feel the need to belittle a child, someone who doesn't even have a voice yet to express themselves. I just think it's disgusting—disgusting that we live in a society that focuses on looks."
h/t: Madame Noire
Be the first to receive breaking news alerts and more stories like this by subscribing to our mailing list.