The Ferguson, Missouri Police Department has finally released the name of the officer who shot and killed unarmed 18-year-old Michael "Mike" Brown last Saturday (Aug 9).
Earlier this week, the Ferguson Police Department announced they wouldn't be releasing the name of the cop who gunned down Mike Brown because at the time "the value of releasing the name is far outweighed by the risk of harm to the officer and his family," according to Ferguson police chief Thomas Jackson.
But after a week of protests, rising tensions and debates on social media, Ferguson officials changed their minds and have now identified Michael Brown's killer.
Chief Jackson said the officer was Darren Wilson, a six-year veteran of the force who had no disciplinary action on his record.
No other information about the officer has been disclosed, and the FBI and Department of Justice haven't released any information either regarding their own respective investigations into Brown's death.
Ferguson police also confirmed reports that the teenager was believed to have been involved in a robbery at a nearby convenience store prior to the shooting.
Chief Jackson said that Officer Wilson had been alerted to the robbery shortly before the encounter with the teenager, Michael Brown, 18, who was walking home from a store on Saturday when he was shot.

The Ferguson police released security camera video after the news conference that showed a confrontation inside the store about 15 minutes before Saturday's shooting. The images show a man, identified by the police as Mr. Brown, who appears to be pushing a store clerk.

The police said that Mr. Brown, who was in the store with a friend, had stolen a box of Swisher Sweets cigars. When confronted by the clerk, Mr. Brown "forcefully pushed him back into a display rack" before leaving, a police report said.

But Benjamin L. Crump, a lawyer for the Brown family, said that "Nothing, based on the facts before us, justifies the execution-style murder by this police officer in broad daylight."?

"The police are playing games here and the parents are beyond incensed with the way that the police are handling the distribution of information," Mr. Crump said. "The police are not being transparent and they are strategically trying to justify this execution-style murder."?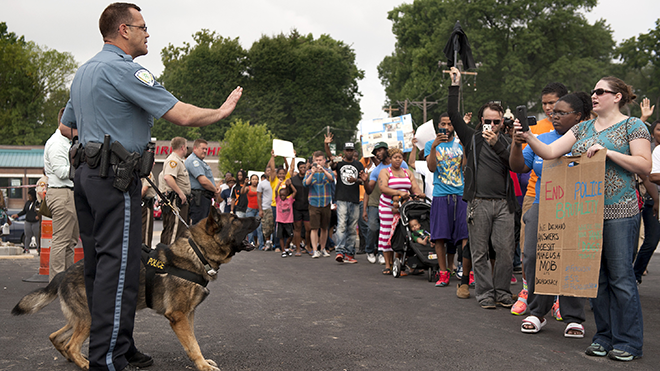 Brown's death had sparked several days of protests that were quashed by police officers shooting rubber bullets and tear gas at groups of demonstrators.
Early Friday (Aug 15), Chief Jackson said authorities believed it was an appropriate time to release the name of the officer who shot Michael Brown to death.
"A lot of the stakeholders had a big meeting conversation yesterday, and then yesterday evening," Chief Jackson told a St. Louis TV station, "and we made the determination that today is the day."
"Nothing specific went into that decision, but we feel that there's a certain calm," he said. "There's a huge outcry from the community."