Orlando Bloom and Justin Bieber almost came to blows the other night at a nightclub in Ibiza, Spain.
The 37-year-old actor and 20-year-old Pop star reportedly got into a heated argument at Cipriani early Wednesday (Jul 30), and according to sources, after getting in each other's faces, Bloom threw a punch at Bieber, and "the crowd cheered."
Sources told Page Six that Bloom swung at Bieber after the singer said something about Bloom's ex-wife Miranda Kerr. But sources close to Bieber insisted that Bieber made a comment after Bloom swung at him, and missed.
According to eyewitnesses, Orlando and Justin were spotted at the nightclub hanging out with celebs such as Paris Hilton, Lindsay Lohan and Diddy … and when they caught glimpses of each other, that's when all hell broke loose.
"Justin was at one table, and Orlando was at another," a source told us. "But when Bieber and his party were later walking past Bloom's table, Orlando refused to shake Bieber's hand." Then "Bieber said something rude to Orlando, like, 'She was good.'"

Another source close to Bieber countered that the pop star didn't make any rude comment and that "Justin didn't even know Orlando was there. But when they saw each other, it was Orlando who was just being an a-hole to Justin."

Either way, when the stars' paths crossed, there was a heated exchange. "They got in each other's faces and there were words," a source said. "But they were separated by their entourages."

A witness captured 30 seconds of the confrontation on video and posted it to Facebook. It shows Bloom walking away from Bieber and being separated by a crowd, but then turning back to walk to Bieber and confront him. "When they were back together again, Orlando threw a punch at Bieber," said a source. "He just tried to pop him! The whole place cheered."

A source close to Bieber said Bloom's punch missed. "There was no contact," the source said. "He missed. Then there was some 'tough-guy shoving,' and they were separated."

But another source told us that in the brief melee, witnesses thought they saw Bloom's punch connect. "The punch definitely connected," a source told us. "People saw it. That's why everyone cheered."

Bieber can reportedly be heard in the video of the incident, yelling, "What's up, bitch?" to Bloom. A source said Bieber also said, "Say hi to her," as the two were separated after the punch. Then, "Justin hung out for a while and left."
After the fight, Justin Instagrammed a photo of Miranda Kerr before quickly deleting it.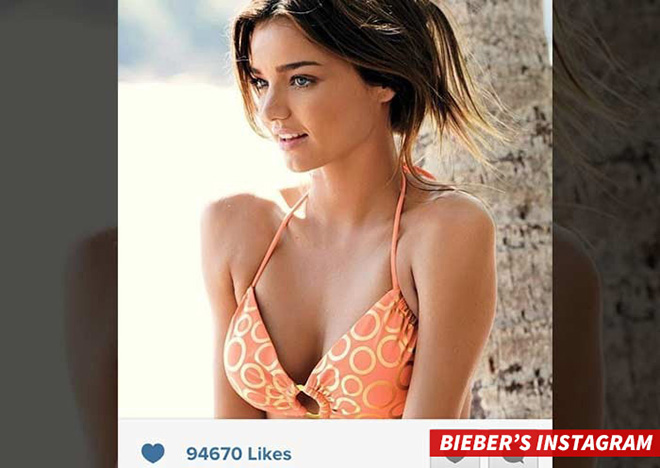 The bad blood between Justin Bieber and Orlando Bloom goes back to 2012 when Bieber was seen getting cozy with Miranda at a Victoria's Secret after-party. This reportedly led to tension between the model and her then-husband Bloom, and they separated in October 2013.
Bloom, meanwhile, was spotted in April 2014 hanging out on the street curb with Justin Bieber's ex-girlfriend Selena Gomez, likely up to no good, and now he and Bieber obviously hate each other for possibly hooking up with their respective exes.
Video via: TMZ
Be the first to receive breaking news alerts and more stories like this by subscribing to our mailing list.