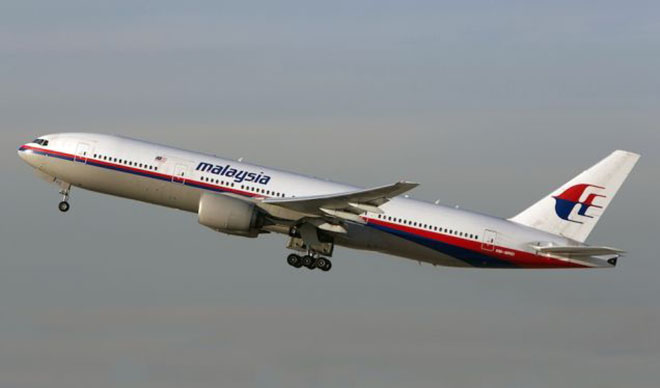 UPDATE: Officials in the United States have concluded that the Malaysia Airlines jet that crashed between the Ukraine-Russia border today was shot down by a missile.
A senior U.S. official told CNN that moments before the plane was hit, a radar system detected a surface-to-air missile system turn on and track an aircraft. Another system saw a heat signature at the time the airliner was hit, the official said.
The U.S. is said to be analyzing the trajectory of the missile to try and determine the attack's origin. Vice President Joe Biden said the downed plane was "blown out of the sky" and "not an accident."
Biden said Ukraine would allow U.S. experts to investigate the jetliner crash, adding "they will be on their way rapidly to see if we can get to the bottom of this."
Malaysian Prime Minister Najib Razak had called for an international team to have full access to the crash site. He told reporters, "We must and we will find out precisely what happened to this flight. No stone will be left unturned … If it transpires that the plane was indeed shot down, we insist that the perpetrators must swiftly be brought to justice."
Meanwhile, Vice President of Malaysia Airlines Europe Huib Gorter told reporters that the 15 crew members aboard the downed jetliner were all from Malaysia.
He also gave a breakdown of the known nationalities of the 280 passengers. From CNN:
154 were Dutch, 27 were Australians, 23 were Malaysians, 11 were Indonesian, six were from the United Kingdom, four were from Germany; four were from Belgium, three were from the Philippines and one was Canadian. Authorities were still trying to determine the nationalities of the other passengers.
In a brief statement, President Barack Obama said the U.S. government would work to determine if any American citizens were on board.
'We're working to determine whether or not there were American citizens on board' – President Obama on #MH17 pic.twitter.com/ZHxNF4ufrN

— NBC Nightly News (@NBCNightlyNews) July 17, 2014
******
Original Story Here:
The Russian news agency Interfax broke the news this morning (via Reuters) that a Malaysia Airlines passenger jet carrying 295 passengers and crew members was shot down Thursday (Jul 17) somewhere along the border between Ukraine and Russia.
Malaysia Airlines confirmed in a post on its official Facebook page that air traffic control in Ukraine lost contact with flight MH17 about 30 miles from the Ukraine-Russia border at about 2:15 local time. The plane was carrying 280 passengers and 15 crew members, the airline said.
According to Interfax, the plane was flying from Amsterdam to Kuala Lumpur when it was shot down at an altitude of about 32,000 feet.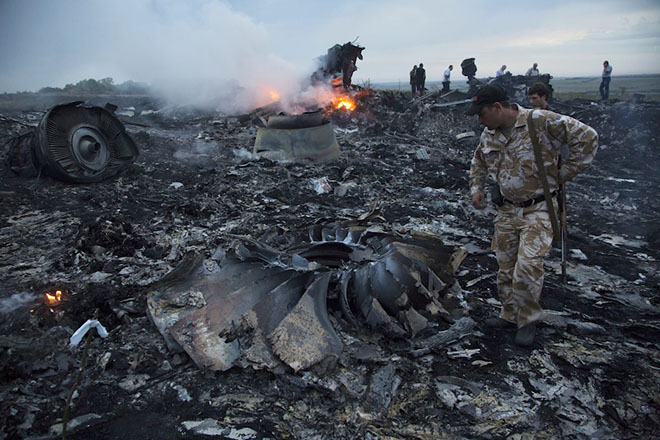 Per Reuters, the plane failed to enter Russian airspace when expected to, and was taken down by a missile, presumably from either Russia or Ukraine. A Reuters reporter on the scene in Eastern Ukraine actually saw the burning wreckage along with "bodies on the ground."
Unsurprisingly, neither Russia nor Ukraine are accepting responsibility for the plane being shot down, with both countries pinning the blame for one of the worst disasters in aviation history on the other.
Ukraine President Petro Poroshenko said that his country's armed forces "did not take action against any airborne targets." He called the downing an act of terrorism and called for an international investigation into the crash.
Pro-Russian rebels in Ukraine denied responsibility as well, blaming Ukrainian armed forces and stating that they don't even possess the type of missile that is alleged to have brought the Boeing 777 airliner jet down.
The (currently unverified) video below purportedly shows smoke billowing from the crash site:
Here is a blurred image of the wreckage site from Russia's LifeNews: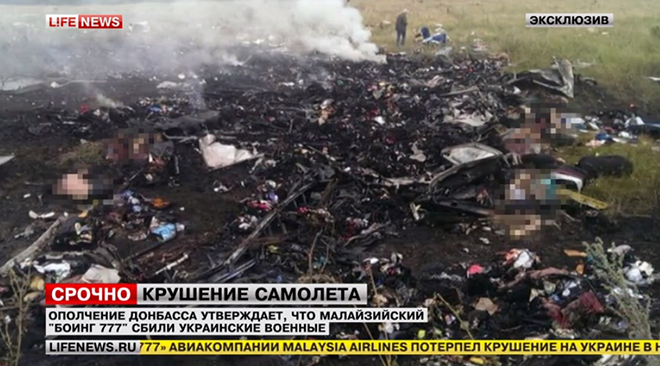 A Reuters photographer took this photo:
First pictures from crash scene of Malaysia Airlines #MH17 in Ukraine Live blog http://t.co/t9D5LbQX63 pic.twitter.com/QQE8xVodkS

— Reuters Pictures (@reuterspictures) July 17, 2014
Twitter user @MatevzNovak posted these photos, which he says are from the downed plane. Though the photos haven't been confirmed, the debris — which has reportedly been scattered across several miles — appears to match up with the Malaysia Airlines jet.
Flight #MH-17 #Torez #Donetsk #Ukraine by Nadezhda Chernetskaya pic.twitter.com/nrokR3svTU

— legionar (@MatevzNovak) July 17, 2014
Flight #MH-17 #Torez #Donetsk #Ukraine by Nadezhda Chernetskaya pic.twitter.com/z4byDeovcp

— legionar (@MatevzNovak) July 17, 2014
Sources: USA Today, AP, Gawker
Be the first to receive breaking news alerts and more stories like this by subscribing to our mailing list.