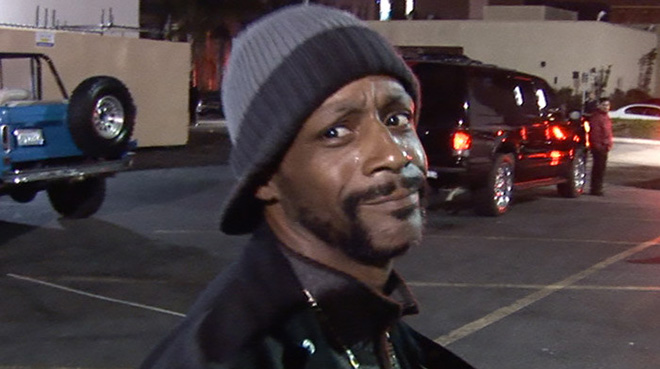 Katt Williams is back to making headlines for all the wrong reasons.
The comedian/actor allegedly pulled a gun out on someone last Tuesday night (Jul 1) at the Comedy Store in West Hollywood.
Eyewitnesses inside the comedy club tell TMZ Katt wasn't performing on stage, but he got really violent when a random heckler started talking smack about his height and race. One witness claims Katt threatened the heckler with a gun.
Cops were called and rushed to the scene immediately after more than half a dozen black and white cruisers responded to the call of a man with a gun, NY Daily News reported.
TMZ captured footage of deputies strapped and ready to shoot outside of the club in case of a confrontation, however Katt had already left the club before they arrived.
No arrest warrant had been issued out for Williams, but cops were still investigating.
"There was some kind of dispute between Katt Williams and someone else at the Comedy Store," Sgt. Dave Valentine of the LASD told E! News, noting that the incident occurred at around 2 a.m. "The dispute carried on down the street at which point it is alleged that Katt pulled out a weapon and threatened the other guy."

"The incident is currently under investigation and in the hands of the detectives," he added. There was no official word yet on what prompted the dispute and we're told that Williams had not yet been in touch with the [Los Angeles Sherrif's Dept].
We all know Katt is no stranger when it comes to run-ins in with the law … so this comes as no surprise.
Meanwhile, Katt tells TMZ he's the victim in the situation. He said he was "verbally attacked and threatened by 4 gangbangers" who kept calling him "Cuz."
The comedian goes on to say things got physical when the 4 guys followed him to his car and began assaulting him. But Katt says he never pulled a gun … never even had one. So the 911 call reporting he was brandishing a weapon is absurd … or so he says.
As for those so-called "gangbangers" who kept calling Katt "Cuz," they too spoke to TMZ and shared their side of the story, calling Williams a "gun-toting lunatic" and making it a point to note that they have nothing to do with gangs.
They were, in fact, simply outside the club shooting a documentary "From the Hood to Hollywood."
They say they spotted Katt and asked if they could shoot him for the doc, but he angrily said no. They claim a woman then pulled up, popped the trunk, Katt went inside and pulled out 2 big guns … then walked over to their car and smashed in the window with the butt of one of the guns.

The guy who was driving says the glass shattered and he suffered cuts. The 4 filmmakers say Katt can expect a lawsuit. As for Katt, he tells us, "Whatever the gangbangers say."
Be the first to receive breaking news alerts and more stories like this by subscribing to our mailing list.