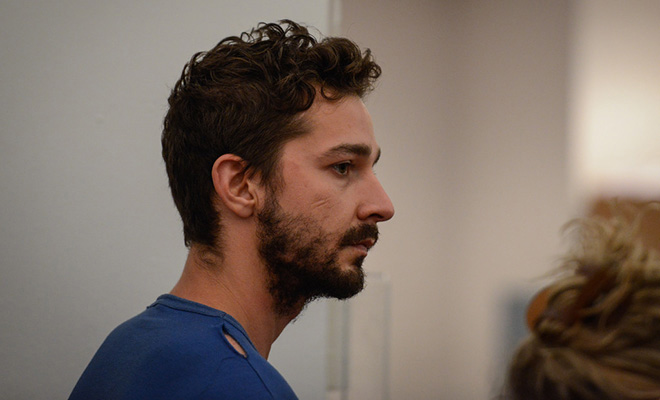 Following a whirlwind week of bad things happening (urinating in public, fighting with a homeless man over a hat, and being dragged out of a Broadway production of "Cabaret" in handcuffs after acting the damn fool), complicated not famous person Shia LaBeouf has reportedly checked himself into a private rehab facility.
X17online, who broke the story, actually followed Shia to the rehab center Monday afternoon (Jun 20) to confirm, which is kind of creepy, but whatever:
We followed the actor from his Hollywood Hills home, just an hour ago, to a private facility where other stars have sought treatment — driven by someone believed to be from the rehab facility.

When the car arrived at the gated drive to the center, a nurse and security guard were there to great Shia. In fact, earlier in the day when we spotted Shia in his driveway, we noticed he was carrying the Alcoholics Anonymous Big Blue Book.

Our photographer tells us: "Shia was nervous; he didn't look good all morning. He was looking down and wasn't even talking to his driver. It looked like he didn't want to do it, but he knew he had to."
According to Radar Online, Shia has been dealing with issues related to substance abuse for a long time:
The actor admitted long ago to attending AA meetings as a child, accompanying his father. He managed to stay on the straight and narrow as a teen, crafting a promising film career, but after a 2007 arrest at a Walgreen's for what he admitted was "intoxicated" behavior, and a 2008 drunk driving arrest, it was clear he was developing issues of his own.
More recently, in January 2014, Shia announced he was retiring from public life after he was caught plagiarizing the comic Daniel Clowes. He also plagiarized his apology about plagiarizing, and then not even a week later, he took his plagiarized apology back.
Then, a month later, at the Berlin premiere of his movie "Nymphomaniac," he wore a paper bag over his head that read "I'm not famous anymore."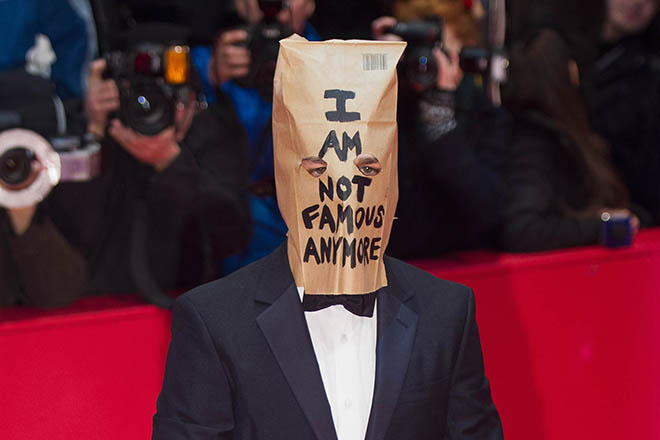 Just last Thursday (Jun 26), the troubled actor was arrested on charges of disorderly conduct, criminal trespass and harassment at the Broadway show "Cabaret."
According to reports, LaBeouf was a drunken mess when cops hauled him away during the show's intermission after he grabbed the butts of several actors and threatened police, telling them he would "f*ck them up."
As he was escorted from the building in handcuffs, Shia reportedly cried, told cops the fact that they were arresting him was "f*cking bullsh*t" and asked them "Do you know my life? Do you know who the fuck I am? Do you know who I am?"
Some reports even state he called one officer a "fag" and was muzzled with a face mask because he wouldn't stop spitting at police.
He also continued to act up at the police station, where he did pushups as cops tried to calm him down. A police source told the New York Daily News, "He's cursing. He's jabbering away. He won't shut up."
Hopefully Shia gets the help he needs.
Be the first to receive breaking news alerts and more stories like this by subscribing to our mailing list.