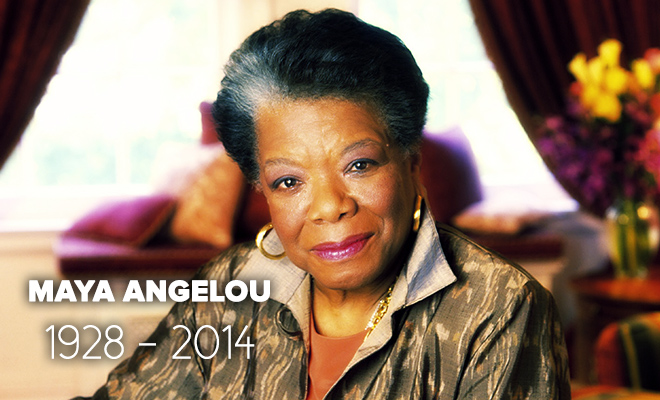 Author, American Poet Laureate and international literary legend, Dr. Maya Angelou — who rose from poverty, segregation and violence to go on and become a highly celebrated, award-winning person of great importance and influence — passed away at her home in Winston-Salem, North Carolina Wednesday morning (May 28), her literary agent Helen Brann confirmed to multiple media outlets, including CNN.
Dr. Angelou was best known for her debut memoir, "I Know Why the Caged Birds Sings," which was released in 1969 and remains one of the most-read books in schools all over.
In the book, Angelou described being raped at 8 years old by her mother's boyfriend, and becoming an unwed mother at 17. She also talked about how she worked briefly as a brothel madam and prostitute before her rise to international fame as a writer.
She is one of history's most celebrated authors, and was friends with Dr. Martin Luther King Jr., Rosa Parks, and Malcolm X, as well as Oprah Winfrey, who often hosted grand birthday parties for Angelou.
"I've been blessed to have Maya Angelou as my mentor, mother/sister, and friend since my 20s," Oprah said in a statement. "She was there for me always, guiding me through some of the most important years of my life. The world knows her as a poet but at the heart of her, she was a teacher. 'When you learn, teach. When you get, give' is one of my best lessons from her."
Winfrey also noted that Angelou won three Grammy Awards, spoke six different languages and was the second poet in history to recite a poem at a presidential inauguration.
"But what stands out to me most about Maya Angelou is not what she has done or written or spoken, it's how she lived her life," Winfrey added. "She moved through the world with unshakeable calm, confidence and a fierce grace. I loved her and I know she loved me. I will profoundly miss her. She will always be the rainbow in my clouds."
According to TMZ, Maya Angelou had been recovering from an "unexpected ailment." Paramedics reportedly received a 911 call at 7:39 a.m. from someone reporting a death at her home. "She died with family by her side," the website reported.
In a Facebook post yesterday, she said doctors had advised her not to travel … forcing her to cancel a planned trip to Houston … where Maya was to be honored Friday with the Beacon of Life Award at Major League Baseball's Civil Rights Game.

The famed author has received more than 30 honorary degrees from universities around the world. She was honored with the Presidential Medal of Freedom in 2011.
President Barack Obama remembered Dr. Angelou Wednesday, calling her "one of the brightest lights of our time — a brilliant writer, a fierce friend, and a truly phenomenal woman." President Obama also noted that she expressed her talents in many ways, but "above all, she was a storyteller" and "her greatest stories were true."
"A childhood of suffering and abuse actually drove her to stop speaking – but the voice she found helped generations of Americans find their rainbow amidst the clouds, and inspired the rest of us to be our best selves," Obama said, adding that his own mother was so inspired by Angelou that she named his sister "Maya."
Maya Angelou is survived by her only child, her son Guy B. Johnson, who confirmed his mother's passing via his Facebook page:
"Dr. Maya Angelou passed quietly in her home before 8:00 a.m. EST. Her family is extremely grateful that her ascension was not belabored by a loss of acuity or comprehension. She lived a life as a teacher, activist, artist and human being. She was a warrior for equality, tolerance and peace. The family is extremely appreciative of the time we had with her and we know that she is looking down upon us with love."
For more on Dr. Maya Angelou's remarkable life and legacy, read these obituaries from CNN, The Washington Post, The Associated Press, USA Today, Reuters and the UK's Guardian.
Be the first to receive breaking news alerts and more stories like this by subscribing to our mailing list.