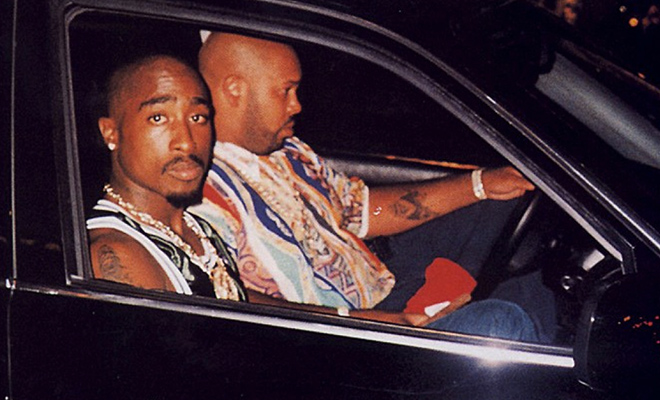 It's been nearly two decades since Tupac Shakur was fatally shot in Las Vegas, yet there is still a ton of doubt and mystery surrounding the rapper's murder, despite it being one of the most high profile cases in history.
But now, a former Las Vegas Metro police officer who was at the scene of the crime has revealed what he claims were Tupac's last words: "F*ck You"
Chris Carroll says he was on bike patrol on the Las Vegas Strip the night of September 7, 1996 when he got a call about a shooting following a Mike Tyson fight at the MGM Grand.
Carroll recalls opening Tupac's bullet-ridden passenger side door and the 25-year-old falling into his arms, covered in blood:
"I finally get the car door to open, and as I pull it open, the guy inside came right out, like he was leaning against the door. And at first I thought the guy was going to bust out of the door right on top of me; I thought this was his plan of attack, so to speak.

"But then I notice that he's not coming out of the door; he was falling out of it. So I grabbed him with my left arm and he falls into me, and I've still got my gun in the other hand. He's covered with blood, and I immediately notice that the guy's got a ton of gold on—a necklace and other jewelry—and all of the gold is covered in blood. That has always left an image in my mind.

[…]

"After I pulled him out, Suge starts yelling at him, 'Pac! Pac!' And he just keeps yelling it. And the guy I'm holding is trying to yell back at him. He's sitting up and he's struggling to get the words out, but he can't really do it.

"And as Suge is yelling 'Pac!,' I look down and I realize that this is Tupac Shakur. At the time, it didn't really mean much of anything to me. I was more concerned that this was a bad situation to be in with just one other cop.

"There's something in police work called the 'dying declaration,' a legal concept that, in a nutshell, basically says that if someone who believes they're going to die gives out the name of a suspect or is able to explain what happened, that's not considered hearsay in court when they're not there to testify; it's admissible evidence.

"So I'm looking at Tupac, and he's trying to yell back at Suge, and I'm asking him, 'Who shot you? What happened? Who did it?' And he was just kind of ignoring me. He was making eye contact with me here and there, but he's trying to yell at Suge. And I kept asking over and over, 'Who did this? Who shot you?' And he basically kept ignoring me.

"And then I saw in his face, in his movements, all of a sudden in the snap of a finger, he changed. And he went from struggling to speak, being noncooperative, to an 'I'm at peace' type of thing. Just like that.

"He went from fighting to 'I can't do it.' And when he made that transition, he looked at me, and he's looking right in my eyes. And that's when I looked at him and said one more time, 'Who shot you?'

"He looked at me and he took a breath to get the words out, and he opened his mouth, and I thought I was actually going to get some cooperation. And then the words came out: 'Fuck you.'

"After that, he started gurgling and slipping out of consciousness. At that point, an ambulance showed up, and he went into unconsciousness.
Carroll says the paramedics eventually showed up, loaded Pac into an ambulance and transported him to the hospital, where he went into surgery and was heavily sedated. The rapper was placed on life-support and put into a drug-induced coma before dying on September 13th.
"I talked to the cop who rode in the ambulance with him," Carroll recalls. "He said Tupac never came out of it, and he never said anything at the hospital. There was nothing else."
Be the first to receive breaking news alerts and more stories like this by subscribing to our mailing list.