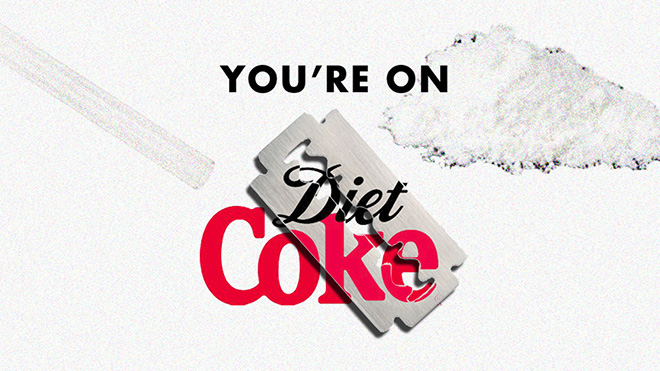 Coca-Cola introduced their "You're On" advertising campaign for Diet Coke in North America three months ago, and now it's being pulled after being mocked all over the Internet.
The Coca-Cola Company's "You're On" ads were supposed to present Diet Coke as a pick me-up for young strivers, similar to an energy drink.
A billboard described the soft drink as "how go-getters get going," while a print ad said: "You've got an 8 a.m. interview, a perfect black suit and three letters in your future: C.E.O."
And in a TV commercial, an announcer declared: "When it's time to be on, it's time for Diet Coke. You're on."
The same commercial appears on dietcoke.com and the text beside it reads, "Whether you're the best man about to give a speech at your friend's wedding or Taylor Swift about to go onstage in front of millions, the refreshment of Diet Coke keeps you on."
But after advertising/marketing bloggers and social media users noticed that in some ads, the "You're On" slogan appeared above the Diet Coke logo, which in turn made it seem like Coca-Cola was saying "You're On Diet Coke," or, even worse, "You're On Coke," the soda company — who actually used REAL cocaine as one of their main ingredients until the early 1900's — yanked the campaign.
"You're on coke." Huh. Really? Seems like a questionable choice in tag line to me. pic.twitter.com/3gYJnqKjpb

— josh berta (@prttyshtty) February 26, 2014
"You're on coke." I see what you did there, @DietCoke! pic.twitter.com/P3QsWOkLEg

— John McDermott (@mcdermott) February 24, 2014
This is real. Coca Cola's new slogan really seems to be "You're On Coke." pic.twitter.com/3sTHTFPmXO

— David Roth (@david_j_roth) March 1, 2014
"It's not likely that the reference was intentional," especially since the company's products used to actually contain cocaine, according to CBS, but David Gianatasio at AdWeek disagrees.

"The campaign's wording is so obvious, I'd bet client and agency went this route on purpose," he writes. "The ads are certainly getting extra attention, and it's not so offensive as to cause the brand harm. Plus, there's plausible deniability."

Coca-Cola says it "in no way endorses or supports the use of any illegal substance," and the slogan change was simply meant to provide "a different way to talk about the brand."
The slogan has since been replaced by "Just for the taste of it," which introduced the drink in 1983 and has been used at least three times since. Coca-Cola is reportedly working on a new campaign internally, one that hopefully does not sound like the company is peddling cocaine to consumers.
h/t: Newser via NY Times; Top Image via Animal; Tweets via HuffPo

Be the first to receive breaking news alerts and more stories like this by subscribing to our mailing list.