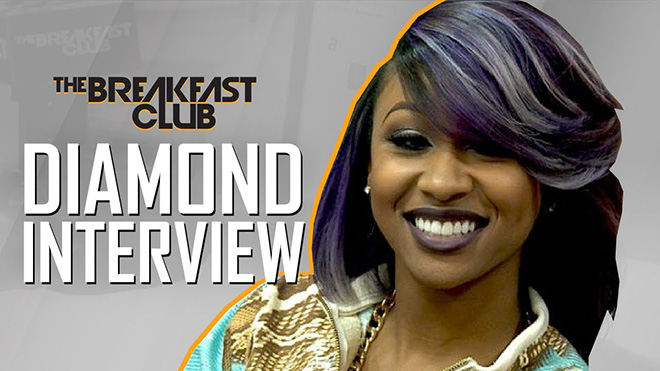 Shots fired!!!
Diamond called out Lil Scrappy and Momma Dee in a recent interview with "The Breakfast Club."
The former Crime Mob rapper dropped by the Power 105.1 morning show Friday morning (Apr 18) and spoke on a number of topics, including a new Oxygen reality show produced by T.I. she'll be starring in called the "Sisterhood of Hip Hop," why she turned down a role on VH1's "Love & Hip Hop," her new record deal, and lots more.
Diamond also spoke on her break-up with Soulja Boy, her past relationship with Lil Scrappy, who she referred to as a "bitch ass n**ga," and she talked about how he was mentally and physically abusive towards her, and even found himself getting slapped by Gucci Mane one time for being "disrespectful."
"He's just flawed. He's a bitch ass n**ga. No bitchassness," she said.
Additionally, Diamond revealed that during her relationship with Scrappy, Momma Dee somehow ended up ruining her credit and she even used to steal from her!
"I got [Momma Dee] an apartment. And then she trashed it and messed up my credit at one point in time," she explained.
On the stealing, Diamond said, "Every time [Momma Dee] came over, I just always had to put up my jewelry, hide my jewelry. I'm just keeping it real. No shade. No tea."
Watch Diamond's entire 34-minute interview with the "Breakfast Club" above!
Be the first to receive breaking news alerts and more stories like this by subscribing to our mailing list.