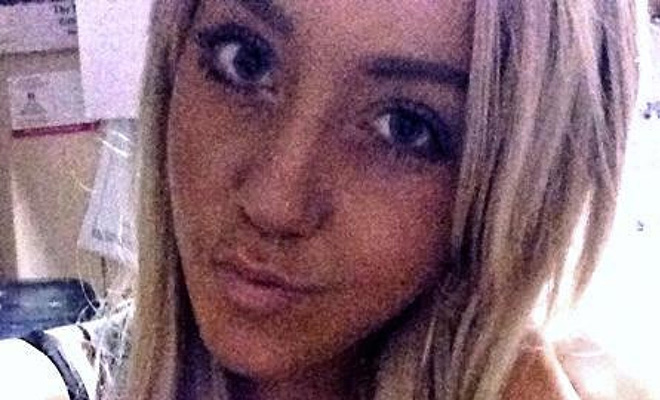 A 21-year-old Australia woman was livid when she had to pay to get her own car fixed after she ran a man riding a bicycle over because she was texting while driving.
Phone records reveal that Kimberly Davis was texting with seven different phone numbers as she cruised through the small Australian town of Koroit last December. According to police, she used her phone at least 44 times behind the wheel.
At around 7:20 pm, Davis ran over a bicyclist from behind, after apparently failing to notice the warning lights that were on the front and back of the man's bike.
Davis called emergency responders, but reportedly parked more than 300 feet away from the cyclist, leaving him lying on the side of the road helpless. Even worse was what Davis told police two days after the incident, according to the Standard:
"I just don't care because I've already been through a lot of bullshit and my car is like pretty expensive and now I have to fix it.

"I'm kind of pissed off that the cyclist has hit the side of my car. I don't agree that people texting and driving could hit a cyclist. I wasn't on my phone when I hit the cyclist."
Davis was fined $4,500 after pleading guilty on Monday (Apr 14) to dangerous driving, and she also lost her license for nine months.
According to the Huffington Post, this is what she posted to Facebook after the December 2013 incident: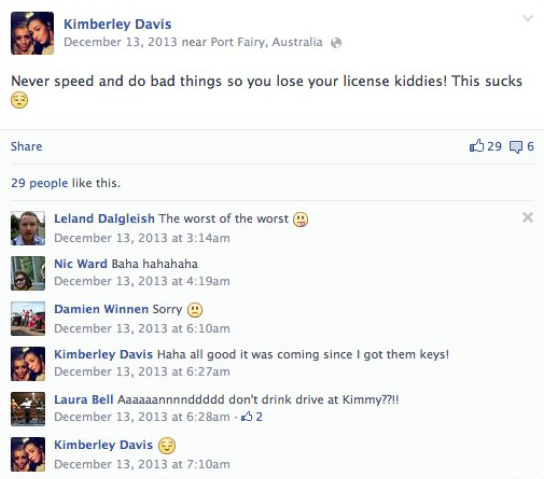 The cyclist, who, in addition to a few minor injuries, suffered a spinal fracture which required surgery and the use of a "spinal cage," was originally told he could be left a paraplegic and spent three months recovering at Melbourne's Austin Hospital.
The injured cyclist's wife said she was "deeply disappointed" that Davis will be getting her license back in less than a year.
We're "deeply disappointed" that Davis will be getting her license back at all.
Be the first to receive breaking news alerts and more stories like this by subscribing to our mailing list.