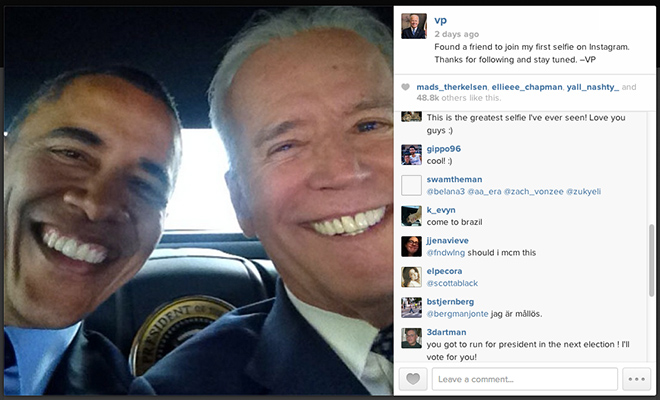 Vice President Joe Biden joined Instagram on Wednesday (Apr 16) and his first post on the popular photo-sharing service was an artsy pic: in the background is him, out-of-focus, working hard, and his Ray-Ban aviator sunglasses are in focus and on the forefront.
His followers immediately flocked to the comments, remarking on how stylish the photo was.
But perhaps even better was another photo VP Biden shared: a selfie of him and President Barack Obama!
The coolest President ever with the coolest Vice President ever, together, on Instagram, IN A SELFIE!
"The best selfie ever! Welcome to the world called Instagram!" one of his followers commented. "So cool! Our President and VP! God's continued Blessings to you both," wrote another.
The image — which looks like it was snapped in the presidential limo — was posted after Biden and Obama's "guy's trip" to Pennsylvania earlier Wednesday, where they touted a $600 million jobs training initiative at a local community college, according to the Hill
Vice President Biden captioned Instagram's coolest selfie:
Found a friend to join my first selfie on Instagram. Thanks for following and stay tuned. –VP
According to his Instagram bio, posts signed with "-vp" come from the Vice President himself.
The White House's official Instagram page reposted the photo with "Pals" as the caption.
Be the first to receive breaking news alerts and more stories like this by subscribing to our mailing list.