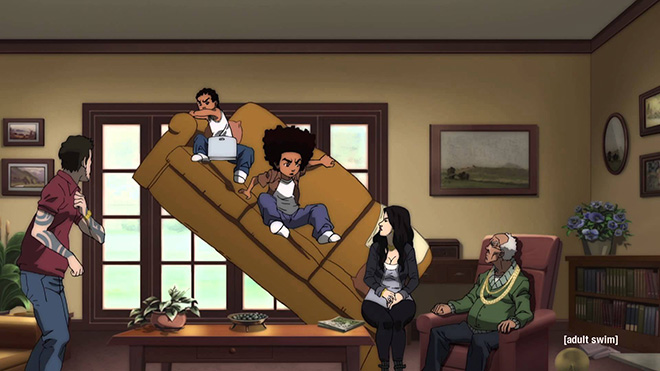 The premiere of the upcoming fourth season of "The Boondocks" is two weeks away, and while that in itself is exciting, this particular season will be bittersweet for two reasons. The first being that creator and showrunner Aaron McGruder will not be involved in any capacity, and the second is because this is the show's FINAL season.
After nearly a decade, Adult Swim has basically relieved McGruder of his duties, and they will be letting go of "The Boondocks" when the fourth season concludes, the network announced in an official press release last month:
The Boondocks, the award-winning animated series returns for its final season on Monday, April 21 at 10:30p.m (ET/PT) on Adult Swim. The Boondocks is produced by Sony Pictures Television. This season was produced without the involvement of Aaron McGruder, when a mutually agreeable production schedule could not be determined.
Aaron himself vented some frustration about what he called "hijacking" of the Boondocks' Facebook page, stating on a March 16th post via the Facebook page of his upcoming new series "Black Jesus":
"Just found out someone has hijacked THE BOONDOCKS Facebook page. This was done without my permission and I have absolutely no control over the content being posted as of Friday, March 14."
A few days later, with the situation still apparently not resolved, McGruder posted on March 20th:
"Day Six. Page still hijacked. Black Jesus says I have my integrity and the love of God, but fuck that I want my page back."
A week later, he followed up with this lengthy statement explaining (but not really) why he's leaving the show behind:
As the world now knows, The Boondocks will be returning for a fourth season, but I will not be returning with it. I'd like to extend my gratitude to Sony and Adult Swim for three great seasons.

I created The Boondocks two decades ago in college, did the daily comic for six years, and was showrunner on the animated series for the first three seasons. The Boondocks pretty much represents my life's work to this point. Huey, Riley, and Granddad are not just property to me. They are my fictional blood relatives. Nothing is more painful than to leave them behind.

To quote a great white man, "Hollywood is a business". And to quote another great white man, "Don't hold grudges".

What has never been lost on me is the enormous responsibility that came with The Boondocks – particularly the television show and it's relatively young audience. It was important to offend, but equally important to offend for the right reasons. For three seasons I personally navigated this show through the minefields of controversy. It was not perfect. And it definitely was not quick. But it was always done with a keen sense of duty, history, culture, and love. Anything less would have been simply unacceptable.

As for me, I'm finally putting a life of controversy and troublemaking behind me with my upcoming Adult Swim show, BLACK JESUS.
Meanwhile, if you're like me and you're stuck on the fence about whether or not you will enjoy the show without Aaron McGruder, Adult Swim released the official trailer for "The Boondocks" Season 4 last Tuesday (Apr 1), giving us a 2-minute preview of what's to come.
(Watch "The Boondocks" Season 4 Trailer in the video player above!)
Fortunately, the new season doesn't look like it's gonna suck as much as I thought it would … but still, knowing that AM had zero involvement with it will definitely dampen the mood while I'm watching it.
According to the press release for "The Boondocks" Season 4:
The new season finds Huey, Riley and Granddad encountering a roster of characters, both new and familiar, in uproarious situations, including Granddad's dating a long lost Kardashian sister; their friend Tom DuBois acting as R&B bad boy "Pretty Boy Flizzy's" lawyer in exchange for relationship advice; Granddad's love affair with Siri on his new iPhone; and the Freemans' foray into the lethal black market of the hair-care industry à la "Breaking Bad."
Thankfully all of the show's original voice actors are returning (John Witherspoon, Regina King, Gary Anthony Williams, Cedric Yarbrough, Charlie Murphy, Samuel L. Jackson, Katt Williams, etc.).
Plus, we'll also get to hear from what the network described as an "eclectic mix of hip-hop artists, actors, comedians and media personalities," including Jenifer Lewis, Busta Rhymes, Snoop Dogg, CeeLo, Lil Wayne, Donald Faison, Kym Whitley, Tichina Arnold, Mo'Nique, Cedric the Entertainer and many others.
Be the first to receive breaking news alerts and more stories like this by subscribing to our mailing list.