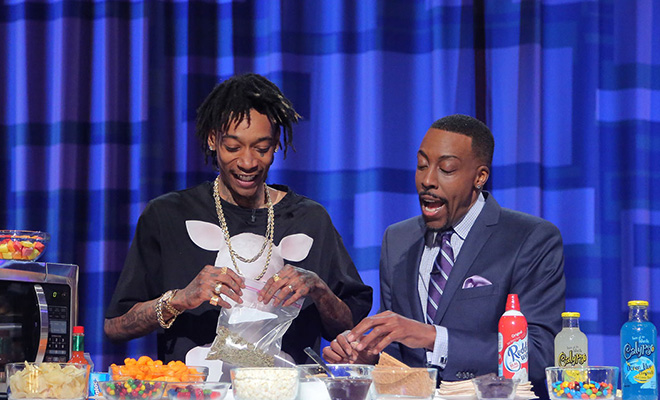 Wiz Khalifa made a guest appearance on the "Arsenio Hall Show" Monday night (Mar 31), and anytime Wiz is in the building, weed is always the top of discussion because, duh!
During his stay, the Taylor gang rapper and Arsenio — who both looked stoned out of their minds, obviously — whipped up a batch of weed snacks, including some delicious-looking s'mores. Sounds pretty damn yummy, right???
We didn't know Arsenio got down like that (i.e. smoking weed and getting high on live TV?) … guess he gotta do whatever it takes to keep those ratings up!
After snacking it up, Wiz sat down for an interview with Mr. Hall, and he spoke on his forthcoming 'Blac Hollywood' LP, working with Miley Cyrus (who he describes as "insane…in a good way" and says is still smoking a sh*tload of weed everyday).
Wiz also performed his new single "We Dem Boyz," and as a bonus, the Golden Sisters — Mary Bartnicki, Josie Cavaluzzi and Teresa Dahlquist — read Khalifa's lyrics for "Young, Wild and Free" aloud and managed to make it more risqué than it already is.
Be the first to receive breaking news alerts and more stories like this by subscribing to our mailing list.