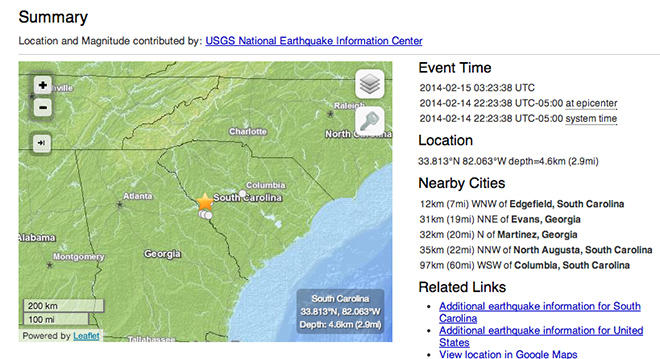 The Internet is abuzz with news that a "minor" earthquake struck South Carolina near the Georgia border late Friday night (Feb 14), and it was widely felt across throughout the two states, based on early social media reports.
According to the Associated Press, the quake happened just before 10:30 p.m. EST and had a preliminary magnitude of 4.4, though more recent reports have downgraded it to a 4.1.
Possible earthquake felt in South Carolina, reports from Greenville to Columbia so far confirm pending #alert

— SCEMD (@SCEMD) February 15, 2014
Lots of reports of earthquake just happening in SC… We're making calls and getting confirmation. #WBTVat11

— WBTV News (@WBTV_News) February 15, 2014
BREAKING: People are calling to report a possible earthquake. We are working to confirm this. Watch The Ten O'Clock News for updates.

— FOX Carolina News (@foxcarolinanews) February 15, 2014
USGS: Earthquake felt in Carolinas http://t.co/Y1d2uZjJhe #breaking

— WYFF News 4 (@wyffnews4) February 15, 2014
The 4.4 Edgefield, SC earthquake appears to have occurred along the Augusta and Modoc fault zones. pic.twitter.com/s0Rj3WH9eO – @4cast4you

— NewsBreaker (@NewsBreaker) February 15, 2014
USGS Geophysicist Dale Grant said that the quake was centered seven miles west of the town of Edgefield, S.C. near the state's capital, Columbia.
"It's a large quake for that area," Grant said, adding that he hadn't yet heard of any reports of any major damage or injuries.
Tom Clements, of Earlwood, S.C., outside of Columbia, said he felt the walls of his brick house shaking "and they were definitely shaking like what I've experienced before in Latin America" during an earthquake.

Clements said he immediately went outside to see if anyone else had felt it and he found two neighbors who had.

"One thought a tree had fallen" because of the ice a severe winter storm dumped on the region earlier this week, he said.

[Source]
The quake was also felt in some parts of Georgia, North Carolina and even Alabama. Residents from Atlanta to Asheville, North Carolina said shaking lasted for several seconds.
The following "intensity map" shows the exact areas where the earthquake was felt the most: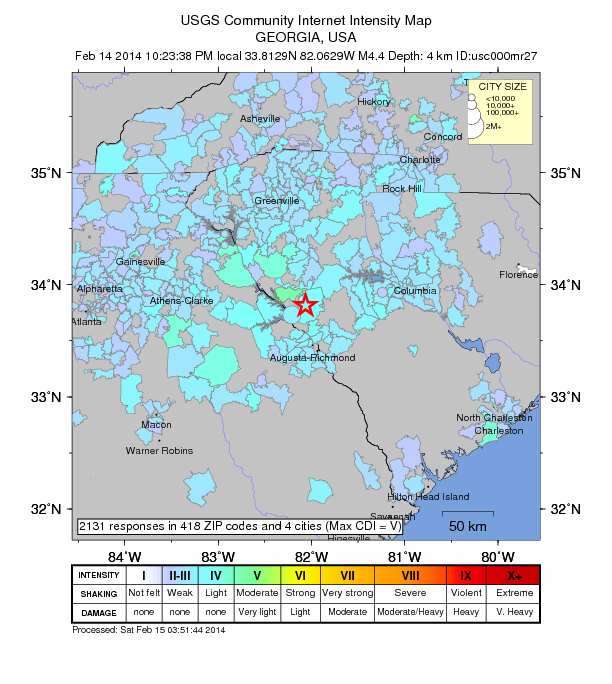 Fox Carolina News reports that it isn't uncommon for S.C. to have earthquakes that register below 2.0 on the Richter scale, but an earthquake above 4.0 is rare. Officials said that this is the thirteenth earthquake in South Carolina this year
Officials said it was the thirteenth earthquake in South Carolina this year.
Be the first to receive breaking news alerts and more stories like this by subscribing to our mailing list.