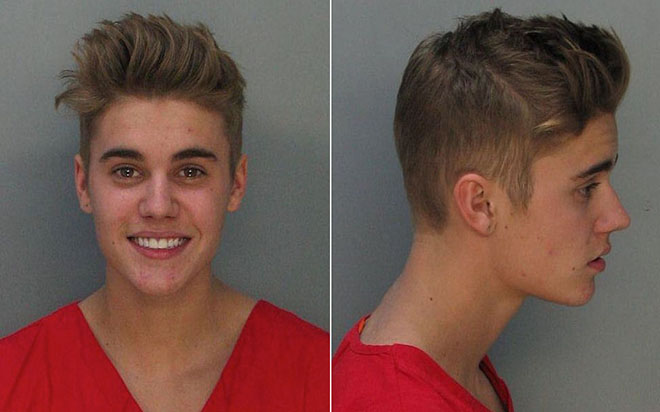 Add "going to jail" to the list of ratchet things Justin Bieber has done to ruin his (once) good name since becoming legal almost two years ago.
The Biebz posed for the above set of mugshots after he was arrested in Miami Beach this morning on suspicion of driving under the influence, drag racing, resisting arrest and driving on an expired licsense.
According to NBC Miami, Justin had just left Miami's SET nightclub (where he was spotted dancing on tables earlier in the night) when he and his crew thought it would be a good idea to do a little drag racing at around 4 a.m.
The 19-year-old singer, who was in a rented yellow Lamborghini, was pulled over in the area along with a red Ferrari, which was also speeding, police said.

Bieber's car was being trailed by multiple SUVs when officers gave chase, police sources told NBC 6 South Florida. Two of the cars were apparently being used to block the area off, police said.

He was driving north on Pine Tree Drive at such a high rate of speed it took officers a significant distance to catch him, police said. The officer who made the arrest said the cars were going approximately 55 to 60 mph in a 30 mph zone, [Miami Beach Police Chief Raymond] Martinez said.
Here's a photo of the vehicles someone posted to Twitter:
#Chopper6 over the yellow #Lamborghini #JustinBieber was in when @MiamiBeachPD arrested him for #dragracing. @nbc6 pic.twitter.com/Zc2J6sv3rO

— Kelly Blanco (@KellyNBC6) January 23, 2014
Upon approaching Bieber's yellow Lambo, an officer said he "smelled a strong odor of alcohol" coming from the vehicle and observed Bieber with a "stuper look on his face" and making "slow deliberate movements."
Police Chief Martinez also said the singer was "a little belligerent" with police and was questioning why he was stopped in the first place. Martinez said Justin got out of the car, as told, but wouldn't follow the officer's further instructions, which explains his "resisting arrest" charge.
"Why the f— are you doing this?" Bieber told the officer, according to the report. "What the f— did I do, why did you stop me?"

Bieber was asked to put his hands on his car but he continued to take them off, the report said. "I ain't got no f—ing weapons, why do you have to search me," Bieber told the officer, according to the report.

According to the report, the officer told Bieber if he continued to take his hands off the car, he would be arrested. When Bieber turned around to face the officer, he was taken into custody, the report said.
The report also stated that when the officer grabbed Justin's arm to arrest him, he pulled away, and yelled "What the f**k are you doing?!?" before eventually giving in "without further incident."
Justin reportedly failed a field sobriety test before being taken into custody. He was later transported to the police department where his blood alcohol level was tested and he also tested positive for drugs, the Miami Herald reported.
Justin was then taken to jail where he was booked and processed, and he remained there for up to 8 hours because DUI suspects are required by law to "dry out" before being released on $2,500 bail. If he's convicted of his charges, Justin faces up to six months in prison.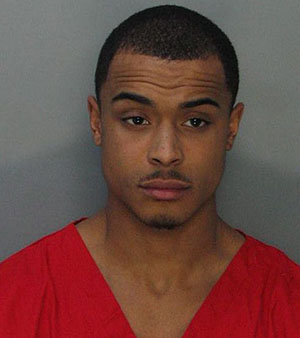 Police said the person Justin was racing (the driver of the red Ferrari) was also arrested, and they identified him as an R&B singer signed to Def Jam named Khalil, who was released on a $1,000 bond.
Justin also had a passenger in the car, model Chantel Jeffries, who has reportedly dated multiple celebrities including NFL superstar Desean Jackson.
Here's a photo of Justin and Chantel taken before the arrest (obviously):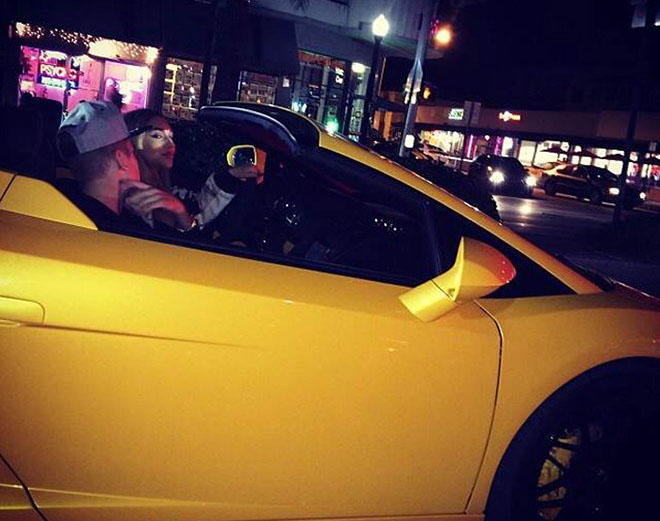 Be the first to receive breaking news alerts and more stories like this by subscribing to our mailing list.