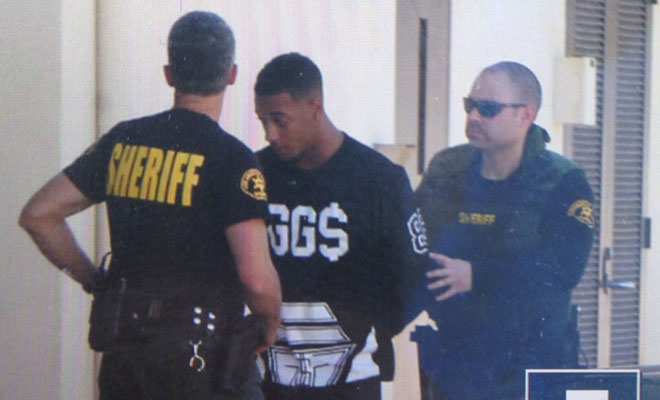 Justin Bieber's egg prank has landed one of his friends in jail!
Rapper Lil Za (who once lived — or probably still does live — with the Biebs) was arrested for felony drug possession after the raid that took place yesterday at Justin's home.
Justin Bieber's Home Raided by the Cops Following Egging Incident
Video footage shows Lil Za being led out of the home by authorities:
TMZ originally reported cocaine was found sitting out "in plain view' when the search warrant was conducted, however, authorities are now saying they believe the drug to be Molly instead, and are testing it out.
Authorities also found Xanax in the Biebz' home, which was believed to belong to Lil Za as well.
And if that wasn't enough, just minutes before posting bail and being released, Lil Za, in a brief moment of stupidity, spazzed out and broke his cell phone in the jailhouse.
Lil Za was arrested once again for vandalism, and could possibly face another felony over the broken cell phone.
What in the hell is going on with JB and friends??? These guys are tripping BIG TIME. Just date hot chicks and blow money fast guys. How hard can that be? Pretty damn hard, apparently, smh.
Be the first to receive breaking news alerts and more stories like this by subscribing to our mailing list.