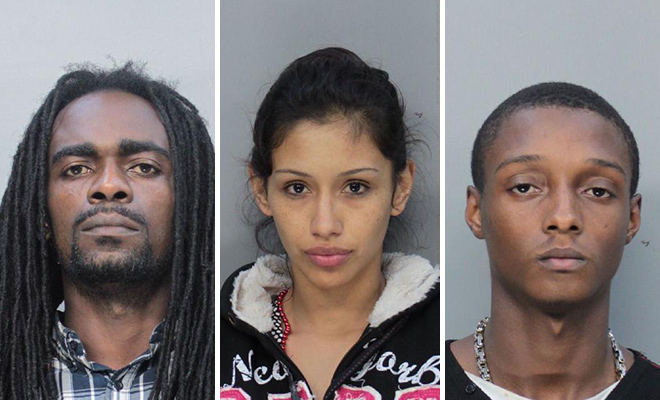 Three Miami people were arrested Monday (Jan 6) on sex trafficking charges after forcing a 13-year-old girl to prostitute and dance at a nude strip club on South Beach.
According to the Miami Herald, 37-year-old Vilbert Jean, 22-year-old Marlene San Vincente and 18-year-old DeWayne Ward each (pictured from L to R) face charges of human trafficking, lewd and lascivious conduct on a person under 16, delivering a controlled substance to a person under 18 and contributing to the delinquency of a minor.
The girl, who went by the stage name "Peaches," reportedly ran away from home on December 10th, and shortly afterwards crossed paths with the trio and was forced to have sex with a man at a motel for $80.
The girl, identified only as D.J. in the police affidavit, was also reportedly forced into having sex with Ward on six different occasions, and was supplied with alcohol and marijuana, and also threatened by the trio with guns.
She wasn't given any money, and when the young girl refused to continue prostituting, she was forced to perform, under the guidance of San Vincente, at Club Madonna, a popular Miami strip club.
None of the operators at Club Madonna were arrested, but investigators conducted a search and looked at video surveillance equipment, computers, external hard drives, and ledgers.
"We have no record of her signing in. We have no payroll record of her working. All the other girls signed contracts. We have no contract from this girl," Club Madonna's Attorney Richard Wolfe told the Miami Herald.
The club owner Leroy Griffith says he feels bad about the situation and is having meetings to prevent this from happening in the future. "I feel bad about it. The management, we're having meetings about it right now," he said.
Vilbert Jean, Marlene Ssan Vincente and DeWayne Ward were all being held in Dade County Jail and were allowed bond.
Via MiamiHerald.com:
San Vincente "tutored" D.J. "on how to work the exotic club scene and generate money." On one particularly profitable night, Dec. 27, she raked in $500. She didn't get to keep it. Jean took it all.

She worked from Dec. 13 to Jan. 4. At some point, D.J.'s pimps imposed a $500-a-night quota. One night when she didn't meet it, she was "poked" with a fork.

She also was made aware that Jean kept an AK-47 assault rifle in a pile of clothes in his bedroom. One time, Ward showed her a .40-caliber pistol and warned that if she ever "got away," her would "get her."

Ward and San Vincente plied D.J. with marijuana and alcohol. They also monitored her every move. She was watched by surveillance cameras controlled by Ward. And she was allowed to call her mother, but only while her captors listened in, and only using a blocked number.

D.J.'s mother found her on Jan. 6 in the area of North Miami Avenue and 55th Street. D.J. spoke with police, telling them they'd find refrigerators full of marijuana and also cocaine at the house. She told them Ward and Jean sold the drugs.

Police swept through the house on Monday, coming up with "findings consistent with the victim's statement, such as the gun, the rifle and drugs."
A damn shame … no child should ever have to go through anything like this!
Be the first to receive breaking news alerts and more stories like this by subscribing to our mailing list.