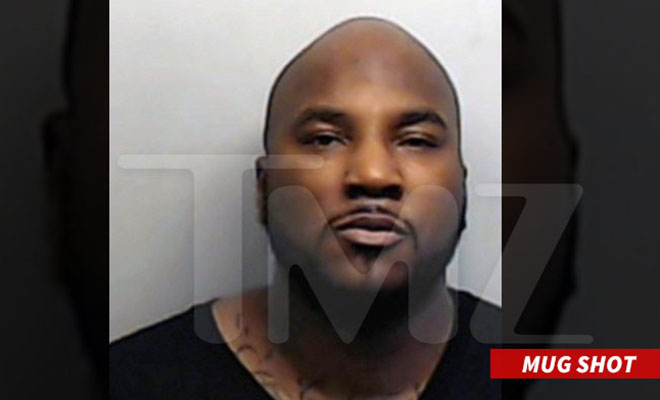 Young Jeezy most likely won't be voted parent of the year anytime soon.
The "R.I.P." rapper was recently arrested in Atlanta for battery, false imprisonment, and making terroristic threats against his son during an incident that took place back in 2012.
According to the charging documents — obtained by TMZ — Jeezy got into a fight with his son in a bathroom and he threw his son into the glass shower door, causing the son to hit his head.  Then Jeezy allegedly punched him in the face, dragged him into the bedroom, threw him on the bed and pummeled him.

According to the incident report, Jeezy's son attempted to escape, but the rapper's bodyguard blocked the stairwell.

The docs go on — claiming Jeezy subsequently choked his son and said, "I will kill you."  According to police docs, Jeezy's son claims his dad said, "I will put a bullet in your head right now," adding, "If I could get away with it, I would kill you."  The incident allegedly occurred in Sept. 2012.
Jeezy (real name: Jay Jenkins) turned himself over to police on Friday (Jan. 3) after a grand jury warrant for the aforementioned charges were issued. He was released after posting $45,000 bond.
"We have no doubt this matter will resolve itself appropriately. At this moment, Mr. Jenkins is thankful for the support of his fans and the respect for his family's privacy," Jeezy's attorney told TMZ in a statement.
We wonder what his son did (if anything) to cause Jeezy to go HAM on him like that! But in incidents like this, you never know what really went down, so who are we to judge?
We just hope Jizzle and his son can work things out if they haven't already.
UPDATE: Young Jeezy said he DID NOT deliver his son a brutal beat-down, and his baby mama is the one who put this story out because she is "out to get him." Read all about that here!
Be the first to receive breaking news alerts and more stories like this by subscribing to our mailing list.