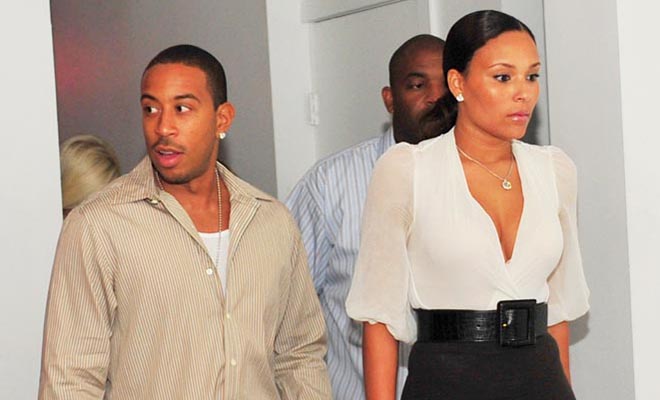 It looks like Ludacris is following in the foot steps of NBA star Dwayne Wade … because the rapper/actor/business man has just welcomed a new baby to his family, and the child's mother is NOT his current girlfriend.
As you may already know, Luda is currently in a relationship with his longtime girlfriend Eudoxie (pictured beside him above), but while the couple took one of those so-called "breaks," Luda knocked up an Atlanta woman named Tamika Fuller, whom he has known since high school.
His new daughter Cai Bella Bridges was born on December 9th 2013 … and according to TMZ, Ludacris — who already has another daughter named Karma who is 11 years old —  knows he's the daddy, but he's worried Tamika "will go in for the kill."
So to save his pockets from being murdered, he has filed legal docs (obtained by TMZ, of course), claiming that he only makes about $26,000 per month on average, which, under Georgia law, would set his monthly child support payments at around $1,700.
We don't know what the hell is up with all of these male celebs having babies (with women who are not their girlfriends) out of the blue … but maybe they should start investing in this thing called "protection?"
You know … like condoms, birth control, all of the above? It works guys, it really does! Just trust us on this.
Be the first to receive breaking news alerts and more stories like this by subscribing to our mailing list.