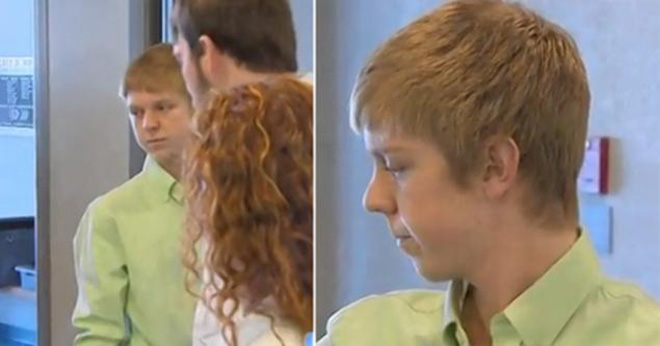 Because we live in a world dominated by a society that seems to lack any morals what-so-ever, a spoiled Texas teen who killed not one, not two, not even three, but FOUR pedestrians in a drunk driving accident will not see one single day behind bars.
16-year-old Ethan Couch was drunk and high and valium when he lost control of his speeding Ford F-350 pick-up and smashed into a disable vehicle on the side of a road near Burleson, Texas.
24-year-old Breanna Mitchell, the stranded car's driver, and three Good Samaritans who were helping her: mother and daugter Hollie (52) and Shelby Boyles (21) and 41-year-old youth pastor Brian Jennings were all killed instantly.
Authorities said Crouch was going about 70 mph in a 40 mph zone on a rural road, and a breathalyzer test showed his BAC was at least .24 — triple the legal driving limit for someone over 21, and he's only 16.
During the trial, prosecutors said Couch and his buddies had been partying all night with beer they stole from Walmart, and they were actually out to get MORE booze when the crash happened.
Seven teens were riding in Couch's car at the time of the crash. Two, who were sitting in the truckbed, were critically injured, and one of them — Sergio Molina — remains paralyzed and brain damaged after several months in a coma. Molina can only communicate by blinking his eye, according to the Star-Telegram.
11 people in all were injured, and local authorities said the crash scene was the most horrific they've ever encountered.
Couch faced a 20-year prison sentence, but instead, walked away with just 10 years probation. According to his legal team, they believe he will benefit more from counseling, versus hard time in prison, and proposed sending him to a luxurious Southern California rehab facility that would cost his family at least $500,000 a year.
A witness for the defense, psychologist Dr. G. Dick Miller, blamed the boy's parents, saying that the teen essentially raised himself.
Dr. Miller testified that Couch was troubled, the product of a broken home, and he got whatever he wanted whenever he wanted it from his wealthy parents.
Miller also said that he believes Couch doesn't understand the concept of consequences and he called the teen a victim of "affluenza," a rich-kid syndrome that made him believe money solved everything.
Miller pointed out that Couch was never disciplined, he abused alcohol and had "freedoms no young person should have," including the freedom of being able to drive when he was just 13 years old.
Proving that Couch's parents never punished him, Miller brought up an incident in which Couch was 15 years old when police caught him in parked pickup with a passed out, undressed 14-year-old girl.
Miller also said Couch was emotionally flat and needed years of therapy due to his parents' volatile and co-dependent relationship, which included lots of fights and arguments, which usually happened right in front of Couch.
The teen's father "does not have relationships, he takes hostages," Miller said. Miller described the mother as a desperate woman who used her son as a tool to get her husband to act the way she wanted.

The mother gave the teen things, Miller said. "Her mantra was that if it feels good, do it," Miller said. The teen's intellectual age was 18, but his emotional age was 12, Miller told Boyd.

"The teen never learned to say that you're sorry if you hurt someone," Miller said. "If you hurt someone, you sent him money."

Miller said if the teen can get the help that he needs, perhaps he can become a contributing member of society and make amends for the pain he caused so many families.

"This kid has been in a system that's sick," Miller said. "If he goes to jail, that's just another sick system."

As a child, he had to make adult decisions, Miller said. He had a motorcycle when he was 4 or 5 and was driving large pickups at 13, Miller said. The teen was a high school graduate at 16, but could not say where he went to school, where he went to church and had no friends, Miller said.

His parents never taught him the things that good parents teach children, Miller said.

"He never learned that sometimes you don't get your way," Miller said. "He had the cars and he had the money. He had freedoms that no young man would be able to handle."

[…]

Eric Boyles, who lost his wife and a daughter in the collision, said there was a lot of disappointment in the room where the victims' families gathered after Boyd announced the sentence.

"Money always seems to keep [the teen] out of trouble," Boyles said. "Ultimately today, I felt that money did prevail. If [he] had been any other youth, I feel like the circumstances would have been different."

Marla Mitchell, whose daughter was killed, said: "He's not free. None of us knows what God's plan is. He has not escaped judgment. That is in the hands of a higher power."

[via: Star-Telegram]
Be the first to receive breaking news alerts and more stories like this by subscribing to our mailing list.