A Tennessee couple almost cashed out BIG TIME after ordering breakfast at McDonald's.
Greg Terry and his wife Stacye often visit the McDonald's on Lebanon Road in Hermitage, TN as a part of their usual routine, and usually get the same order every visit.
However during their most recent visit, the couple were accidentally given a bag full of thousands of dollars in cold, hard cash.
"My husband opened the bag and discovered the money inside," Stacye Terry told NewsChannel 5. "He said, 'You are not going to believe this.' Sure enough, it was their bank deposit money."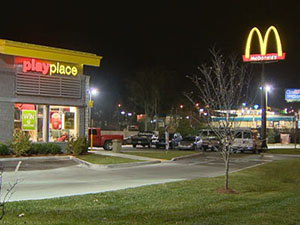 The bag, which contained money that was about to be deposited at the bank was placed near the drive-thru window and mistakenly given to the Terry's, instead of their breakfast order.
"The second that he said it was their deposit, my first thing was let's get in the truck and take it back. There is no other way to have it.  I couldn't live with myself," Mrs. Terry said.
But before Mr. and Mrs. Terry could return the money, the McDonald's employee showed up at their home and was able to get the cash back.
The store owner and operator Phil Gray issued the following statement on the incident:
"We are grateful for this customer and the action they took upon realizing our error. We are looking into why this mistake happened, but what is most important to us is knowing that we are part of a community with the values that were evidenced by this person's actions."
The Terrys say they got a good chuckle from the experience and plan on eating from the McDonald's again.
"We'll be back.  We'll be back. But, next time I'm sure we'll leave with our normal breakfast order," Greg Terry said.
Guess this shows that there are still some honest, good people left in the world, as most would have taken that money and got out of town.
So we have to ask…
If McDonald's accidentally gave you a bag full of thousands of dollars IN CASH would you take the money or give it back?
Be the first to receive breaking news alerts and more stories like this by subscribing to our mailing list.