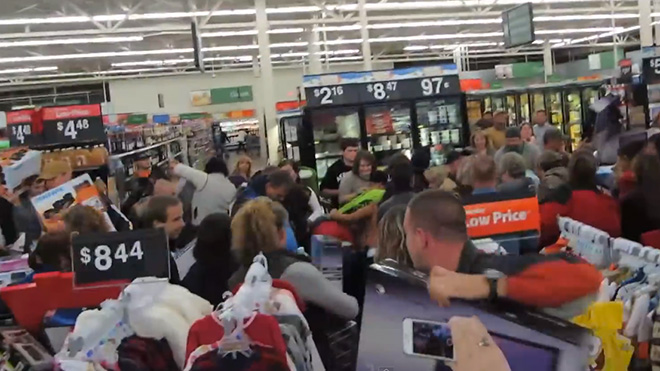 I'm starting to think "Black Friday" was created as a test for humanity, just to see how we treat each other when an entire 24-hour period is essentially dedicated to scoring the biggest TV for the cheapest price.
Take the video up top, for example, which shows a mob of about 50 people pushing and shoving each other over flat screen TVs at a Walmart in Elkin, North Carolina. One woman can be heard repeatedly screaming "Oh my God!"
While several police officers were nearby, they chose not to intervene, leaving a lone Walmart employee to attempt to break up the fight.
The video was recorded by New York Filmmaker Brian Spain, who says he was asked to leave the store by a Walmart employee.
According to Spain, "I immediately had an employee — I assume the manager since he was the one that kicked me out — tell me that I had to turn my camera off and leave the store or I would be arrested for trespassing."
Another video uploaded to YouTube shows a violent outbreak at another Walmart (location unknown), once again, over flat screen TV deals. In this one, a woman can be seen being slammed to the ground by police and detained with handcuffs:
And then there's this video, highlighting a fight over not just TVs, but also DVD players, GPS navigation systems, and other electronics in Fort Worth, Texas. The woman with the "heart problem" getting pushed around by "motherfuckers" providing play-by-play commentary is probably the best part of the 3-minute clip:
Even our friends down in Puerto Rico took part in the foolishness that is Black Friday. Here's a video recorded of a bunch of people stampeding towards a Walmart in Mayagüez:
Also of note, here's a couple of pictures of ambulances outside Walmart:
Somebody done got hurt in the Walmart! #stretcher pic.twitter.com/8PZJOMzBIR

— Kara Honaker (@KaraMHonaker) November 29, 2013
fight broke out at walmart and the ambulance had to come #phillyforya pic.twitter.com/pQKABqq1Fs

— Jamie Coogan (@j_coogs18) November 29, 2013
And a picture of a stretcher and EMS workers INSIDE Walmart:
Really? At walmart, smh. pic.twitter.com/kltXr2s5E7

— Mary. (@validmary_) November 29, 2013
People weren't just fighting over TVs, DVD players and GPS nav systems either.
Some Twitter users recalled fights over toasters, laptops, touch-screen tablets (not even iPads), Xbox 360s (you know damn well the Xbox One was NOT in stock), blenders, and even towels … all at Walmart.
Lmao there's a fight at Walmart

— ?Birthday Boy? (@OG_Jaay) November 29, 2013
Lol at the people at Wal-Mart that got in a fight over a toaster????????????????

— Andres Perez (@andreslobo96) November 29, 2013
Lol there was a fight at Walmart lol atl real #atl #BlackFriday

— Yanira? (@_latinabarbie) November 29, 2013
Walmart was live. Seen people fight over towels lmao

— E-Na$ty (@EssenceLaray) November 29, 2013
NEVER will I go to Walmart black Friday again I got stuck in the middle of a fight over a stupid tablet ???????????? if you wanna see crazy go there

— courtneylexis (@CourtneyCrigler) November 29, 2013
Thank god we got out asap from walmart because too many people were starting to fight -.-

— Myranda. (@myrandanikole) November 29, 2013
Witnessed a fight at walmart over a $29 tablet…..

— Amanda Sanchez (@Amanda__Sanchez) November 29, 2013
Fist fight over xBox at Jordan Creek Walmart. #BlackFriday #WalmartFights

— Jason Murray (@Murray49J) November 29, 2013
FIGHT AT WALMART

— Kenzie Lind (@thekenzielind) November 29, 2013
Report of a fight at Walmart in the garden center on Morgantown Rd.

— joeimel (@joeimel) November 29, 2013
I have never felt more shame for humanity than I do right now watching people in Walmart fight over a tv, Alabama bookbag & a $14 blender

— Zach Colley (@zachcolley1) November 29, 2013
I almost got ina fight in walmart ????

— flowerChild. (@loveePistol) November 29, 2013
There was a fight at walmart

— Tavar. (@IceTFlyAirs) November 29, 2013
So I was just in Walmart and there was a fight over a tv…

— ? (@allicat521) November 29, 2013
I heard it was fight in Wal MArt over 2k14

— EYES ON HIGH (@jmann_07) November 29, 2013
Seen the first fight of the night ???? only at Walmart

— Sammantha (@Samm_Nani) November 29, 2013
Watching these ppl fight over laptops in Walmart was sad #Mericuh

— Kamal (@Kamal561) November 29, 2013
Walmart is like a war zone.. Fight to the death to get the shit you want

— A?ex Reyes (@Alex_Reyes32) November 29, 2013
A spokesperson for Walmart reached out to the Huffington Post and said that incidents depicted online don't accurately represent what the retailer considers a successful Black Friday.
"We've got great feedback from customers and associates across the country," Brooke Buchanan told The Huffington Post. "A few tweets aren't representative of what's actually happening at 4,600 stores."
Walmart's US CEO Bill Simon described the store chain's Black Friday sales as "bigger, better, faster, cheaper and safer than ever," while a company press release bragged about processing "more than 10 million transactions" and receiving more than "400 million page views on Walmart.com on Thanksgiving Day."
"From coast to coast, Walmart stores were crowded but mostly calm," the released continued. "Our safety plans worked and we've heard great feedback from our customers and associates … Even as we served more customers this year across our more than 4,000 stores, the number of incidents was significantly down."
Incidents were "down," you say? Sure they were Walmart. Sure they were…
Meanwhile, the "Black Friday Death Count" website, which is an impressive list of articles highlighting the many deaths and injuries that have occurred on Black Friday since 2006, tells a totally different story.
To date, there have been seven deaths and 90 injuries, and most of the incidents have happened at Walmart.
Black Friday is just NOT WORTH THE TROUBLE, guys.
Be the first to receive breaking news alerts and more stories like this by subscribing to our mailing list.