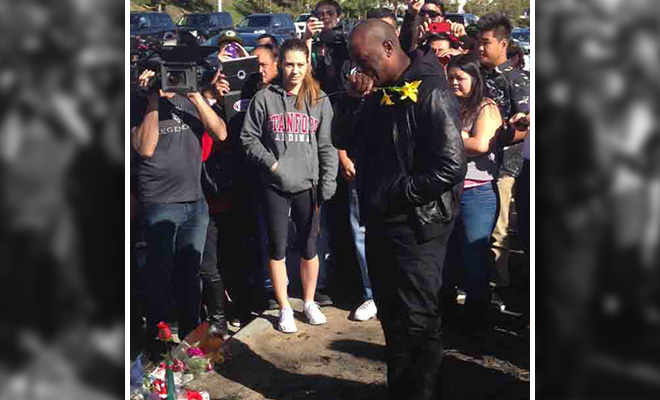 There's no doubt that Paul Walker's death was shocking for us all, but it's impossible to imagine how those who were close to them are feeling at this time.
Take his "Fast & Furious" co-star Tyrese Gibson for example. The actor/singer was overcome with emotion Sunday afternoon (Dec 1) when he paid a visit to the site where his friend died in a car crash no less than 24 hours before in Valencia, California.
Video footage obtained by TMZ shows Gibson "clearly falling apart" and breaking down into tears while visiting a makeshift memorial at the site where fans have been leaving flowers and other mementos in honor of Walker.
Before leaving the scene of the accident, Tyrese picked up a piece of the wreckage and took it with him. He shared a photo of it on Instagram, writing:
I will keep your energy with me forever #AshesOfAnAngel fast family around the world we live you and we love you Paul is the heartbeat of this franchise and were gonna see to it that his energy and presence lives on forever #myhearthurtssobad
Saturday evening after learning of his friend's passing, Tyrese posted this photo on Instagram, along with the following message:
My heart is hurting so bad no one can make me believe this is real Father God I pray that you send clarity over this cause I just don't understand My heart hurts it's broken no one can convince me that this is real…. Prayer warriors please pray real hard for his only child, his daughter and family… #HeartOfAnAngel13YrsFamilyForeverWeJustCelebreatedYour40thBirthday….. My God… My God… I can't
He went on to post an Instagram shot of the last conversation he had with Paul on Thanksgiving, in which he thanked him for his friendship and told him how much he loved him:
At least I got to say I love you…. #OurLastExchange but our laughs and moments will live forever #ThisIsWorstThanMyWorstNightmare #GodiLoveYouAndiwillneverquestionYou…. But this I just don't understand #PaulForeverFamily #MyHeartHurtsSoBad please pray for his daughter and family…
Be the first to receive breaking news alerts and more stories like this by subscribing to our mailing list.